Jan 5, 2011 Music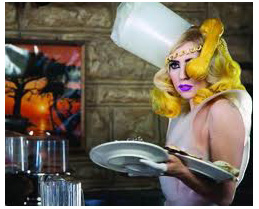 OK, last round up from 2010 – a handy guide to the best music videos as voted by the Vevo staffers.
Telephone (Lady Gaga/Beyoncé) – An epic mini movie channeling Madonna, Tura Santana, Quentin Tarantino, Roger Corman and Oliver Stone, this rightfully put Lady Gaga at the forefront of the pack when it comes to being considered an audio-visual artist rather than just a pop star. And the blogosphere went CRAZY the day it first aired.
Love The Way You Lie (Eminem ft. Rihanna) – Art imitating life imitating… given that both stars involved have a history with domestic violence and their real-life (ex-) partners, here was another bloggers' dream, fueled by the ambiguous message of the images. Anti-violence, or a wifebeater's manifesto?
Baby (Justin Bieber ft. Ludacris) – no controversy or ambiguity here, just singing, dancing and bowling. Isn't it nice that the Bieber has such a diverse range of friends?
Symphonies (Dan Black ft. Kid Cudi) – lush bricolage as Black transforms his song lyrics into a dazzling array of movie and pop culture references.
Firework (Katy Perry) – rather a literal interpretation of the lyrics ("Baby, you're a firework") as Katy and Co. shoot sparklers from their chests, but there's a cute narrative in here about underdogs (Perry dedicated it to the LGBT It Gets Better campaign) and sumptuous backdrops courtesy of Budapest. And you'll be singing "Boom boom boom, even brighter than the moon moon moon" for days.
OMG (Usher ft. will.i.am) – simple but effective performance video, tossing out a range of distinct visual motifs. If you don't like one, there's another one along in a minute.
Shutterbugg (Big Boi ft. Cutty) – a basic performance in a warehouse enlivened by wacky visual effects.
Waka Waka (This Time For Africa)(Shakira) – More of a promo for the FIFA World Cup than a music video. But that's the whole point.
The Suburbs (Arcade Fire) – haunting, Spike Jonze-directed narrative about the loss of innocence
Estoy Enamorado (Wisin & Yandel) – innocuous reggaeton transformed into a protest song against SB 1070, shows immigrants just fading away from their daily lives
Dilly (Band of Horses) – surreal biker gang rampage through a 1970s-hued Mojave desert, line dancing and shooting imaginary guns.
Born Free (M.I.A.) – another controversial entry (it was banned from YouTube on initial release, reinstated, banned, re-reinstated), the narrative shows a SWAT team battering their way through an apartment block in search of redheads, who are then bussed out to the desert and shot. A telling comment on genocide, or over the top for a pop promo?
Real Love (Delorean) – Hipsters and their dogs.
Whip My Hair (Willow Smith) – colorful, creepy, vocoded, a generation crick their necks.
Runaway (Kanye West) – not a mere music video (Kanye wouldn't stoop so low) but a 34 minute Full Length Movie.
View the Full List in HD at Vevo