Mar 10, 2011 Comics, Movie Industry, Movies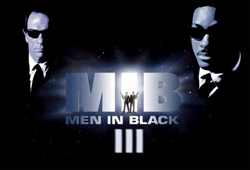 The Hollywood Reporter's main story today explores how Sony tentpole, Men in Black III, has come to be several months into production without a finished screenplay. It's a tangled tale of production incentives, stars with script approval, and a franchise that should probably have been left dead and buried anyway (well, until the inevitable reboot in about five minutes' time…).
However, it does ring more than a few alarm bells for us writers. Why, in an industry that revolves around story-telling, is getting the story straight deemed the least of production executives' worries? The minor detail of having a coherent beginning, middle and end, seems to come way down the list from keeping the star happy, or even paying attention to "great hair". It's usually said that if a script has problems in Act Three, they need to be fixed in Act One, but what happens if Act One has already been shot and there's no going back and changing it?
MIB3 was never going to win any Critics' Circle Awards, but it could have been a fun summer movie, respectful of the heroes' comicbook origins and legacy. Now it looks like it will be nothing more than a hot mess designed for one purpose only – to print money for Sony. If only global audiences would learn to boycott these disastrous movies altogether – vote "No" at your local multiplex when the time comes: May 25, 2012
Why Men In Black III started filming without a script – Hollywood Reporter