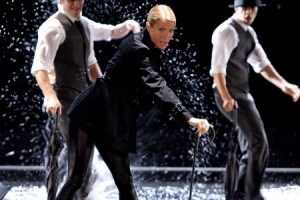 GLEE is hitting the headlines on both sides of the Atlantic today, with complaints about this week's sex-themed episode featuring Gwyneth Paltrow.
The Parents' Television Council are foaming at the mouth and called in to the Hollywood Reporter to voice their disapproval:
Isett was not a fan of the scene in which Paltrow and several students ripped open their shirts while dancing suggestively to "Do You Wanna Touch Me."

"If you had a real-life instance of that, I think it's fair to say the teacher involved would no longer be a teacher," he says. "But somehow it's acceptable for a fictional teacher to do this. Again, this is a real problem. Real-world teachers don't lap dance with their students."
Meanwhile, the Guardian points out that all royalties from Do You Wanna Touch Me will go straight to the songwriter, convicted pedophile, Gary Glitter, who penned the original hit back in 1973. This could be a substantial sum of money – apart from the TV performance rights, the song is already available on US iTunes. These days, UK TV and radio steer clear of Gary Glitter songs for the very reason that they don't want to provide him with income, but it seems the producers of Glee aren't so squeamish about rewarding those who exploit minors – we're back to the GQ photo shoot all over again. It also seems that Paltrow is keen to promote her nascent career as a singer at all costs, even when it means embroiling herself in a potential scandal.
Parents Television Council Blasts Sex Episode of Glee as 'appalling' – Hollywood Reporter
Glee's Gwyneth Paltrow in row over Gary Glitter cover – The Guardian