Mar 20, 2011 Digital Technology, Music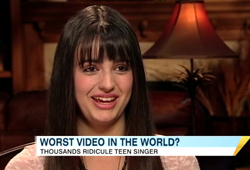 As the dust subsides from Rebecca Black's meme-making You Tube debut, attention is being focused on the maestros behind the music. Just who are the Ark Music Factory?
On their website, founders Patrice Wilson and Clarence Jey describe themselves as "a Community, Music/Entertainment Channel and Independent Record Label based in Los Angeles, California". Their current roster of artists is all young and female, all purveying identikit vocoded, throwaway pop music and boilerplate videos. However, in addition to the limited number of artistes featured on the website, various bloggers have dug around this week and uncovered many more Ark Music Factory prodigies online.
Wilson and Jey's business model seems to be fairly simple – and entrepreneurial. Fond parents of fame-obsessed tween and teen girls can buy a song and video package for their beloved daughter to perform. If they've already spent years forking out for ballet, tap and singing lessons, this kind of video showcase seems like a natural step, putting their little princess front and center, with as many of her BFFs as she wants performing as backing singers and dancers. In itself, this is nothing new: young girls have been working on dance routines in bedroom mirrors, fantasizing about being the next Marvelettes, the next Bananarama, or the next Spice Girls, for decades. Ark Music Factory are simply adding in digital technology, making the fantasy seem more real by auto-tuning vocals, adding a random rap break, and indulging uninspired pop video scenarios about driving in cars and dancing round fountains with some fancy edits thrown in for good measure. As Rebecca Black has mentioned in interviews, she knew someone else who'd "had it done" so she thought she would – anyone who's ever seen an episode of My Super Sweet Sixteen knows that girls with rich parents always get what they want, and they want at least as much as their rival queen bees are getting. Ark Music Factory are simply supplying a service, and a quick scan of the internet suggests they aren't the only production company feeding this demand.
Is there anything wrong with propagating these kind of tween dreams? It seems to be a fun experience for the girls involved, and if they keep the videos private, only to be shared between friends, surely it's only a glossy, stylized version of the DVD of the school play that parents can use to embarrass future husbands in years to come? However, if these videos go viral online, it's a completely different story. Audience theory suggests that the original intent behind a media text becomes irrelevant once it's exposed to mass consumption. Different audiences will read the text in their own way. And, thanks to the internet, music videos like Friday are instantly subjected to a range of negative, even vicious readings. Once a video is out there, it can be re-interpreted and reused in any way a consumer of the text sees fit. Something made in all seriousness can rapidly become a joke, something meant for niche (friends and family) consumption can suddenly become a global conversation. The teenager trying to impress her friends can, overnight, become the target of international cyberbullying. An innocent performance can become the focus of a whole culture's neuroses and hatred towards young women who are perceived to be less than physically perfect. Even Red Riding Hood didn't encounter such horrors when she took a journey into the woods.
Wilson and Jey could never have conceived of the millions of hits on YouTube, the iTunes downloads, the radio and TV interviews, the near-instant global fame when they were selling Rebecca Black's parents the package. It's not clear exactly who is making what money from the unexpected hit recording. Inevitably, however, the Ark Music Factory phone will have been ringing off the hook with queries from eager wannabes demanding their turn in the limelight. They won't care that they're not talented, that the end product will be awful, that once it gets on the internet people will see it and laugh at them for years to come. They just want what Rebecca's having. And the Ark Music Factory (plus all the copycats who are bound to spring up) will be laughing all the way to the bank.
Rebecca Black has wiped away her tears from earlier in the week (when critics drubbed her recording as "Worst Song Ever") and is now demanding to do a duet with Justin Bieber. After all, he also became a massive star after his YouTube video went viral. This is one girl who won't let anything stand between her and her dreams – just like Verucca Salt and that squirrel in Charlie And The Chocolate Factory.
Ark Music Factory – The Official Site
Who The Hell Made Rebecca Black's 'Friday' Video? – City Sound Inertia
Rebecca Black, teen singer, admits she cried when her hit song was deemed worst song ever – LA Times