Aug 8, 2013 Movies, Representation of Women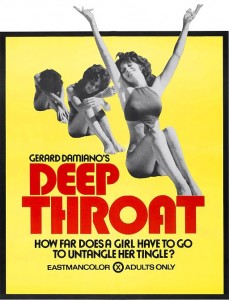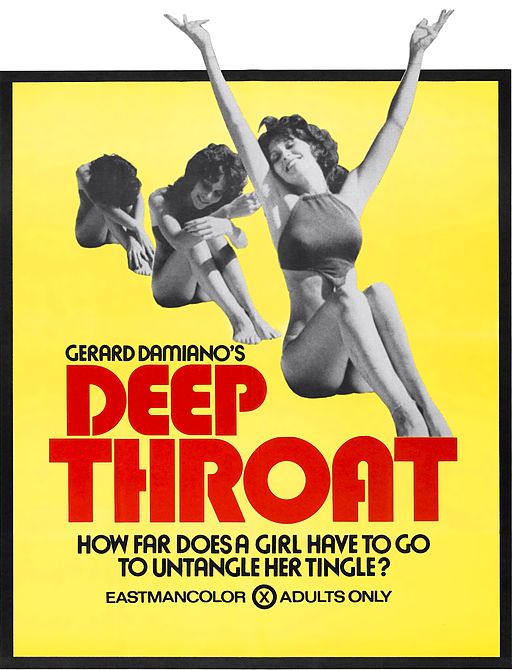 LOVELACE (2013)
Directors:
Rob Epstein, Jeffrey Friedman
Writer:
Stars:  Amanda Seyfried, Peter Sarsgaard, Juno Temple, Sharon Stone, James Franco, Chris Noth, Chloe Sevigny, Hank Azaria
Sometimes, a movie is just a movie.  Sometimes it's a cultural flashpoint, a watershed within a wider revolution, a landmark in socio-sexual history.  Sometimes it's the first time people hear the word 'clitoris' or go to a movie theater to watch a woman voluntarily swallow an erect penis without triggering her gag reflex. Sometimes it's a battleground between feminists and pornographers, censors and hedonists, the FBI and the Mob.  Sometimes it becomes synonymous with both a specific sexual technique and a presidency-destroying informant.
Sometimes a movie is Deep Throat (1972), the 61-minute porno that cost $25,000 to shoot but coined over $100 million (the actual box office revenues are the subject of much controversy).  The star, Linda Lovelace, née Boreman, never received a penny for her efforts. Instead, she was rewarded by fame – or infamy – as the poster-girl for sexual freedom and the punchline to a million dirty jokes. She couldn't act, sing, or dance, nor was she model-beautiful, but her party trick propelled her onto the pages of Playboy, Bachelor and Esquire and into the zeitgeist.
In 2013, this kind of career trajectory doesn't seem at all out of place (eat your heart out, Kim Kardashian), but in the mid-1970s Linda Lovelace represented an entirely new phenomenon. Her sunny, girl-next-door charm was touted as evidence of changing attitudes to pornography.  If a nice girl like Linda could enjoy onscreen sex, and be invited to Hollywood parties on the strength of her performance, so could anybody. Inevitably, however, the dream turned to dust.
In 1980 Linda, by then a born-again Christian and married mother of two, published Ordeal, an account of the grim reality behind the carefree smiles and coy giggles.  In Ordeal, Linda claims physical, psychological and sexual abuse put her in front of pornographers' cameras and kept her from going anyplace else.
It's a classic rags-to-riches-to-rags cautionary tale, drenched in neon 1970s nostalgia, coupled with the durability and cultural impact of the Deep Throat brand.  No surprise, then, that two Hollywood Lovelace biopics competed to be the first into theaters, spurred by casting merry-go-round rumors (Kate Hudson, Lindsay Lohan, and Malin Ackerman were all lined up to play Linda at some stage).  Rival Inferno seems to have bitten the dust while Lovelace hits theaters this week, bringing a starry cast and a lot of sympathy towards telling Linda's side of the story.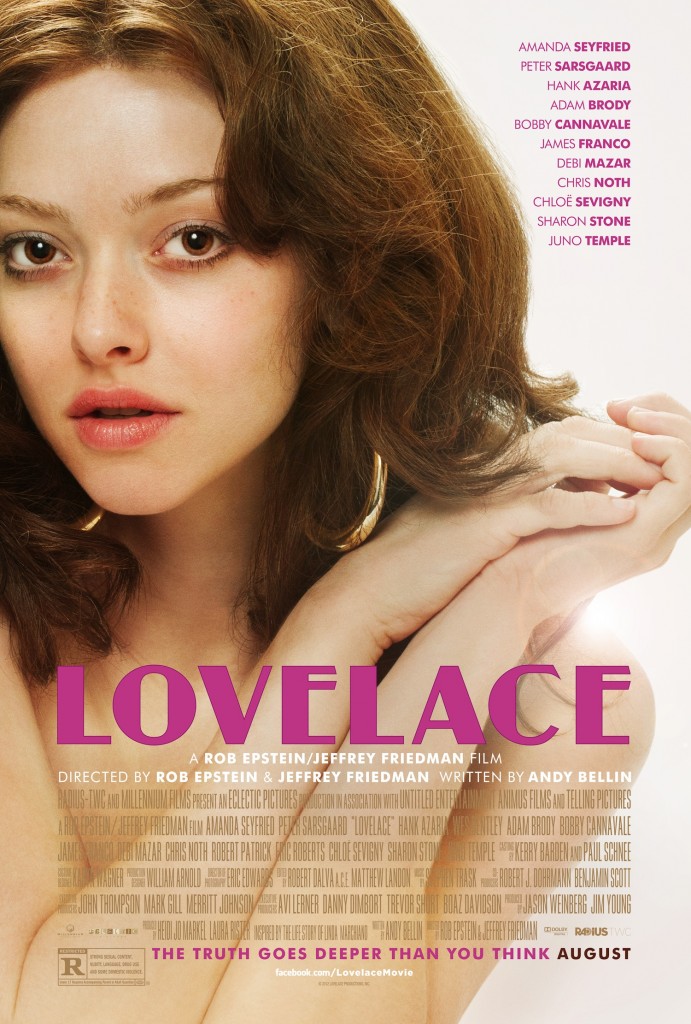 In this version, Amanda Seyfried, her ice-princess coloring shaded into a convincing freckled brown, plays Boreman as a free spirit who sought to escape one set of confines only to find herself shackled even tighter.  She's frustrated by the restrictions imposed by her forbidding mother (played with startling menace by Sharon Stone) and ex-cop father (Robert Patrick), so when she meets charming bar owner Chuck Traynor (Peter Sarsgaard) she welcomes the opportunities a relationship with him seems to offer. Unfortunately, it's out of the frying pan into the fire, as those opportunities soon disintegrate into prostitution, pornography and domestic violence, as dictated by her new husband, Chuck.
In her later years, Boreman blamed Traynor for everything, saying he hypnotized her, beat her, and put a semi-automatic assault rifle to her head in order to keep her under his absolute control.  Lovelace sticks with her version of events and devotes most of its screen time to the dynamics of their relationship – a warped master/slave situation with eerie echoes in today's zeitgeist-busting sexual textual phenomenon, 50 Shades Of Grey.
Sarsgaard has already demonstrated his virtuosity as the charming yet amoral player (in An Education, Orphan, The Skeleton Key, Flight Plan et al) and Traynor makes a mesmeric addition to his gallery of rogues.   It's easy to see how a wide-eyed Linda is seduced by his smooth manners, and, subsequently, how she is terrified by his brutal and instantaneous shifts in mood, from pathetically needy to nasty supremacy.  Linda, raised to be obedient to her husband by a strict Catholic mother, will do anything he asks, even when it involves remaking herself into a bobble-headed, wide-mouthed, vagina-for-hire, with the meek compliancy of a blow-up doll – like the failed merchandising prototype tossed in a corner of their Malibu home.
Lovelace unspools both versions of Linda's story, the "Porn Is Fun!" insouciance she projected during the Deep Throat era, and the grittier truths she revealed during her rounds of talk show couches in the 1980s.  Seyfried bridges the transitions with ease.  Her portrait of Linda is thoughtful and empathic, very definitely tuned into the 'Linda As Victim' narrative. She's aided and abetted by Eric Edwards' cinematography, which frames her consistently as a glamour-lit damsel in distress.
Aesthetically appealing though this is, the 'Poor Linda' approach starts to grate a little by the third act, thanks to something that might be termed 'The Lovelace Paradox'.  Even in a movie purportedly coming from Linda's perspective, she's presented as the object, rather than the subject of the narrative.  She's pinned by the unremittingly male gaze of two directors, a screenwriter and a cinematographer who celebrate her only as a passive protagonist, granting her no agency in her fate.  She's shown as escaping Traynor's clutches thanks only to the intervention of other men, and, in the 1980s, seeking redemption from Phil Donahue.  In perhaps the most chilling scene of the movie, she pleads with her mother to be allowed to come home, only to be told that she must obey her husband and be a good Christian wife.  There are no other options. Whichever way Linda turns, she's incapable of validating herself.
Therefore, despite Seyfried's best efforts, Linda remains an enigma.  The screenplay affords no insights into her ambition, the determination to stay in the spotlight that saw her write no less than four autobiographies, or the steely core than made her not just a victim but a survivor of domestic abuse.   Lip service is paid to her career as an anti-porn campaigner (which lasted longer than her career as a porn star), but it's an addendum to the main plot. In its own way, Lovelace is as much a superficial fantasy as Deep Throat, glossing over the facts (such as the bestiality loops or her appearance in Deep Throat II) that don't quite fit, in favor of a 1970s soft-focus on a curly-haired brunette in a cute swimsuit and a floppy hat, porno chic without any full frontal sex.
Lovelace, for all the fine performances and nostalgic allure, could have been bolder and more challenging.  It seems the film-makers were too eager to shed the dirty-nasty aspects of the story, too unwilling to address the counter-claims about Linda, that she genuinely loved sex, that she was a knowing participant in the Deep Throat circus who back-tracked on the issue of compliance after her co-star, Harry Reems, was convicted on federal charges of conspiracy to distribute obscenity across state lines in 1975.
Any biopic has to cherry-pick and simplify the facts, but Lovelace errs on the side of hagiography.  By airbrushing Linda's flaws, by casting the ethereal Seyfried and the urbane Sarsgaard in the lead roles, by framing the narrative with a happy ending, the filmmakers ignore some of the more darkly resonant aspects of her story in favor of blatant Hollywoodization.  Perhaps that's what it takes to sell an 'inside porn' movie to the masses, but it still seems like a disservice to the memory of Linda Boreman, complex, imperfect, inconstant human being, who, by the time she died in a car crash in 2002, had contributed so much more to the world than an epic fellatio technique.
Deep Throat remains a milestone.  In some ways, it's 'Patient Zero' for the porn epidemic that has such a stranglehold on mainstream culture today.  It was a massive financial success because it was the first skin flick to play beyond the traditional target audience.  It was openly discussed on The Tonight Show Starring Johnny Carson and in the New York Times.  Hollywood glitterati (including Frank Sinatra, Martin Scorsese, Sammy Davis Junior, Nora Ephron, Truman Capote and even Barbara Walters) admitted to seeing it. Roger Ebert gave it a (no-star) review.
Deep Throat shaped the mood of the times, its ubiquitous (and intellectually sanctioned) presence on theatre marquees a declaration that "Porn is OK!"  It is often cited as the main example of a golden era when pornography was indeed innocent, artistic and story-driven, harmless fantasies constructed by auteurs flocking to the cause of sexual freedom.
Yet the messy, contested and contradictory history of Linda Boreman, who became Linda Lovelace, who became Linda Marchiano, but who could never hide from her notoriety (she was fired from office jobs once employers discovered who she was) suggests a different, spikier truth. The push/pull of gratification and exploitation is beyond any individual's control.  However Linda tried to spin her version of events, she found the story wasn't hers to tell. It belonged first to the makers of Deep Throat, then to the feminists who co-opted her for their cause, and now, to the makers of Lovelace.  That's the message for our post-privacy era. Like Linda, none of us can define an act once we've allowed it to be photographed.  Any images that go on the record will continue to define us till the end of our days.  Be careful out there.
Tags: Amanda Seyfried, Lovelace