Archive for the 'Comics' Category
Jul 23, 2011 Comics, race, representation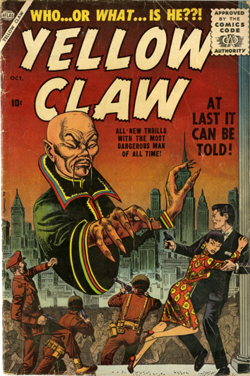 A fascinating new exhibition at NYU explores how representations of Asians in comicbooks from 1942-1986 can be grouped into eight archetypes: the Alien, the Brute, the Lotus Blossom, the Guru, the Brain, the Kamikaze, the Temptress and the Manipulator.
Cultural studies scholar and author, William F. Wu, offered his personal comic collection as the basis for the exhibition, which purports to show "how images that began as racist and xenophobic propaganda during times of war and nativist unrest have coalesced into archetypes that in many ways still define America's perception of Asians today" (Exhibition Guide). Asians working within the comicbook industry have been invited to comment on how the images and narratives affected them, growing up, and their general perceptions of Asian identity.
The co-curator, Jeff Yang, describes the exhibition as
"more than just a comics collection; it's a historical document and one that covers a period of history that in some respects can be considered to be during the specific period in which the Asian-American identity was forged.

"All of the key elements and factors that shaped who we are as a people occurred during this time – Pearl Harbor, internment, the Korean War, the Vietnam War, the rise of immigration, the building of ethnic enclaves, the beginning of the Asian-American rights movement, the rise of Japan and later China. What (Wu) did was collect images shaped by political forces, and to tell this story is to tell a narrative of how America has viewed Asians."
America has long had a collective anxiety about Asians as 'the Other', from the Chinese immigrants forced into hard labor and ghettos in the 19th century to the current political drumbeats about the 'menace' of China's economic rise. These comic book archetypes have both shaped and been influenced by that anxiety. This kind of stilted, repetitive representation does all kinds of damage, especially as comics are read predominantly by children. Non-Asian readers, usually without much or any exposure to actual Asian Americans, conclude that this is what all Asians are like. Asian readers absorb the images, which are usually negative, as part of their identity.
Greg Pak, a writer for Marvel Comics, says this in his exhibition sidebar:
"I just want (Asian-American characters) to be human. Because humans are flawed and crazy and capable of amazing acts of heroism and terrible acts of villainy I wouldn't get hung up about seeing Asian tyrants or gangsters or femme fatales or martial artists if they were all different and individual and human. What I get angry about is that there are a million ways to write an Asian martial artist, so why is it that we keep on seeing the same darned one?"
Daniel Kim, co-curator, says
"As I was working on this exhibition, I came to the fascinating and horrifying realization that I had read a lot of these comics as a kid, and had either not noticed or minimized the way in which Asian characters were portrayed… That's how pop culture works. You're caught up in the entertainment and the pleasure of it. When I think back to my 8-year-old self, I retroactively worry for him. I wonder what this will do to him, what role it will play in developing my self-identity and the identity of all Asian boys who grew up reading comic books in America."
Asia In American Eyes – China Daily
MARVELS AND MONSTERS: Unmasking Asian Images in U.S. Comics, 1942-1986 – NYU Fales Library, until August 19
Jul 21, 2011 Comics, Movie Industry, Movies
For a while now superhero movies have been a valuable cash cow for the studios, supplying familiar stories with built in brand recognition and a global audience. However, it turns out that audiences can't be fed entirely on a diet of rehashed comic books, largely because they all start to look the same. And we've seen a glut of them this year, with less than spectacular box office results once you factor in production and P&A costs.
Deadline comments on media analyst Vasily Karasyov's report this morning:
The analyst says that the boom in superhero movies began around 2000 as computer generated imagery (CGI) made it easier for filmmakers to credibly show action that defies the laws of physics. Virtually all of the most popular films of the last decade couldn't have been made without CGI. Within that group Karasyov counts 16 superhero films, not counting sequels, resulting in four franchises: Fox's X-Men, Sony's Spider-Man, Warner Bros' Batman, and Paramount's Iron Man. Yet nothing has taken off since Iron Man came out in 2008, he says, largely because studios have already tapped their hottest properties. "As film studios dig deeper into catalogues for characters for new films, we think the chances of finding a break out property are diminishing fast" — even though the films still come with high production costs.
Harry Potter is done. Twilight has the two final instalments already in the can. Where should Hollywood studios look for the next lucrative franchise?
Studios Should Prepare for the Death of Superheroes- Deadline
Mar 10, 2011 Comics, Movie Industry, Movies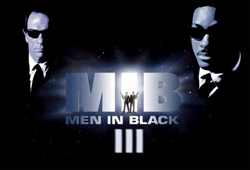 The Hollywood Reporter's main story today explores how Sony tentpole, Men in Black III, has come to be several months into production without a finished screenplay. It's a tangled tale of production incentives, stars with script approval, and a franchise that should probably have been left dead and buried anyway (well, until the inevitable reboot in about five minutes' time…).
However, it does ring more than a few alarm bells for us writers. Why, in an industry that revolves around story-telling, is getting the story straight deemed the least of production executives' worries? The minor detail of having a coherent beginning, middle and end, seems to come way down the list from keeping the star happy, or even paying attention to "great hair". It's usually said that if a script has problems in Act Three, they need to be fixed in Act One, but what happens if Act One has already been shot and there's no going back and changing it?
MIB3 was never going to win any Critics' Circle Awards, but it could have been a fun summer movie, respectful of the heroes' comicbook origins and legacy. Now it looks like it will be nothing more than a hot mess designed for one purpose only – to print money for Sony. If only global audiences would learn to boycott these disastrous movies altogether – vote "No" at your local multiplex when the time comes: May 25, 2012
Why Men In Black III started filming without a script – Hollywood Reporter
Feb 10, 2011 Comics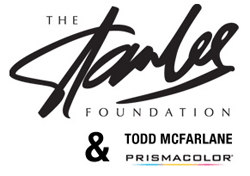 The Stan Lee Foundation has teamed up with comic book artist Todd McFarlane (SPAWN, SPIDER-MAN), and Prismacolor Art Supplies, to find a new superhero. Hundreds of artists have submitted their designs: the superheroes they present are an extremely diverse group when it comes to skin colour, gender and superpowers.
You can vote between now and February 17th for your favourite.
Create A Superhero – Talenthouse.com
Jan 27, 2011 Comics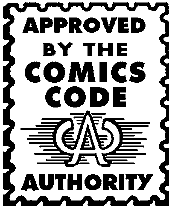 Back in 1954, comic book publishers were in a lot of trouble. Parents, child psychologists, and the Senate Sub-Committee on Juvenile Delinquency were outraged at the graphic sex and violence depicted in the pages of titles like Murderous Gangsters, Clutching Hand, Lawbreakers, Worlds of Fear et al, especially as so many of them seemed to be aimed at children. So, fearful of legislation, the comic book publishers got together and agreed a Code of Conduct, sanitizing their output practically overnight. They based their restrictions on the Hays Code (which was beginning to lose its hold over movie studio output), and declared:
Criminals shall not be presented so as to be rendered glamorous or to occupy a position which creates the desire for emulation.
In every instance good shall triumph over evil and the criminal punished for his misdeeds.
Scenes of excessive violence shall be prohibited. Scenes of brutal torture, excessive and unnecessary knife and gun play, physical agony, gory and gruesome crime shall be eliminated.
All scenes of horror, excessive bloodshed, gory or gruesome crimes, depravity, lust, sadism, masochism shall not be permitted.
Scenes dealing with, or instruments associated with walking dead, torture, vampires and vampirism, ghouls, cannibalism and werewolfism are prohibited.
(Read the full list at Comic Artville)
No zombies or pimp daddies, in other words. EC Comics (publisher of Crime SuspenStories, Frontline Combat, Crypt of Terror and The Haunt of Fear) was the most badly hit, and had only one title (Mad magazine) left within a year.  The Code was fairly rigidly enforced until the 1980s, when DC and Marvel started publishing comics that were aimed specifically at adults, and didn't need the Code seal on the front cover.  Other publishers followed suit. Marvel came up with its own rating system in 2001, and, on January 20th, DC Comics stated they will no longer carry the seal either.  That left only Archie Comics (publisher of very tame titles) to announce that they will be abandoning the Code at the end of February.
So, farewell then, Comics Code.  It seems that more and more censorship structures will be abandoned as anomalies of the twentieth century, as the global, instant, and instantly replicating nature of the internet makes policing popular culture an impossibility.
Check out some Pre-Code Comic Nastiness here – from My Retrospace and some of the juiciest horror stories as kindly scanned in at The Horrors of It All