Archive for January, 2011
Jan 28, 2011 TV
Fox – who had already reinvented the making-money-off-a-TV-show paradigm with American Idol – now see Glee as their next fatted calf, as per this insightful feature from The Hollywood Reporter.  It's not just a show about some high school kids who like to sing and dance any more.  It's a cross-platform marketing juggernaut:
"Just one look around the table at the Gleekly meeting reveals the scope of how mammoth, complicated and promising the show is. In fact, to call it a mere show seems a misnomer. For Glee, gone is the old TV model of making money only off ads (nearly $300,000 per 30-second spot and rising) and syndication. Glee is a brand that, through its inventive packaging of music and the mall-ready charisma of its stars, has redefined how big a TV business can be. Among the participants at the table: the head of consumer products, playing show and tell with the new line of Glee-branded Sephora nail polish; a representative from home entertainment, passing around a Target circular featuring the Season 2, Vol. 1 DVD (the chain accounts for 25% of Glee's entertainment sales); and vps from publicity, digital (Glee has the No. 1 iPad app) and international, touting the latest numbers out of the U.K., which make Glee the country's most-watched U.S. series, outperforming Desperate Housewives, Lost and CSI (good news, considering the Glee tour is headed to London's O2 arena in the summer and promoter Live Nation anticipates successive sellouts). Also on tap: a June reality show on Oxygen awarding a Glee guest role."
Glee has had a huge cultural impact, on everything from sales of Journey's back catalogue to attitudes towards gay teens. It's also caused a lot of controversy for its depictions of teen sexuality – a major consideration given that a big proportion of the audience is under 13. Given the fiscal pressures (Fox is now spending $3.2 to $3.8 million per episode), that means its creators have had to reconsider the responsibilities they have towards their audience (and their potentially angry parents). The last thing they want is a Parents Television Council-led backlash like the one against the MTV version of Skins. Says Ryan Murphy:""From now on, I will sweat every single word and how we're presenting it."
Oh, and Murphy's reaction to that GQ cover? "It wasn't great for the brand".
Inside the Hot Business of 'Glee' – The Hollywood Reporter
Jan 27, 2011 Comics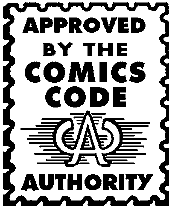 Back in 1954, comic book publishers were in a lot of trouble. Parents, child psychologists, and the Senate Sub-Committee on Juvenile Delinquency were outraged at the graphic sex and violence depicted in the pages of titles like Murderous Gangsters, Clutching Hand, Lawbreakers, Worlds of Fear et al, especially as so many of them seemed to be aimed at children. So, fearful of legislation, the comic book publishers got together and agreed a Code of Conduct, sanitizing their output practically overnight. They based their restrictions on the Hays Code (which was beginning to lose its hold over movie studio output), and declared:
Criminals shall not be presented so as to be rendered glamorous or to occupy a position which creates the desire for emulation.
In every instance good shall triumph over evil and the criminal punished for his misdeeds.
Scenes of excessive violence shall be prohibited. Scenes of brutal torture, excessive and unnecessary knife and gun play, physical agony, gory and gruesome crime shall be eliminated.
All scenes of horror, excessive bloodshed, gory or gruesome crimes, depravity, lust, sadism, masochism shall not be permitted.
Scenes dealing with, or instruments associated with walking dead, torture, vampires and vampirism, ghouls, cannibalism and werewolfism are prohibited.
(Read the full list at Comic Artville)
No zombies or pimp daddies, in other words. EC Comics (publisher of Crime SuspenStories, Frontline Combat, Crypt of Terror and The Haunt of Fear) was the most badly hit, and had only one title (Mad magazine) left within a year.  The Code was fairly rigidly enforced until the 1980s, when DC and Marvel started publishing comics that were aimed specifically at adults, and didn't need the Code seal on the front cover.  Other publishers followed suit. Marvel came up with its own rating system in 2001, and, on January 20th, DC Comics stated they will no longer carry the seal either.  That left only Archie Comics (publisher of very tame titles) to announce that they will be abandoning the Code at the end of February.
So, farewell then, Comics Code.  It seems that more and more censorship structures will be abandoned as anomalies of the twentieth century, as the global, instant, and instantly replicating nature of the internet makes policing popular culture an impossibility.
Check out some Pre-Code Comic Nastiness here – from My Retrospace and some of the juiciest horror stories as kindly scanned in at The Horrors of It All
Jan 25, 2011 Movie Industry
On the day when Oscar nominations reinforced, once again, that Hollywood is a white man's party, a strange report: 'overseas' box office can be worth more than domestic. Who'da thunk that the rest of the world combined could throw more box office dollars at a movie than Americans at their local multiplexes? Hollywood studios are geared to pronouncing a movie a success or failure based on its first weekend of domestic box office. Perhaps that attitude should change, based on some of the numbers quoted?
There is no better example than the box-office trajectory of the "Ice Age" series. The franchise has largely remained constant in the U.S.–with each of the three films making between $176 and $197 million–while the films have exploded around the globe, with the first film making $207 million overseas, the second one $457 million and the third one a whopping $690 million.
The LA Times frames the story around the assumption that global audiences are dumb enough to fall for gimmicks like 3D, but ignores the implication that US dramas, focused on the malaise of the hegemonic white guy, lack broad appeal, and should probably be put out to pasture.
The strange trajectory of Hollywood movies: Fizzling in US but skyrocketing overseas – LA Times
Jan 14, 2011 Media Careers, Movie Industry
It's awards season, which means that producer credits for the big movies of the year are coming under scrutiny.  These are always contentious, as the job title "producer" is a nebulous one.  An actor acts, a writer writes, a director directs – these are all active, specific verbs – but it's often unclear what a producer does and how many are needed to get a film into theaters.  It can take twelve years (as with this season's favourite, BLACK SWAN) to transform a movie from a script to a hit, and a lot of people need to take on producer duties en route, first developing the screenplay, putting together attachments, financing, and then overseeing physical production before finally shepherding the finished product in front of audiences.  The Producers Guild of America is very wary of studio bosses inserting their name into the credits (no one's going to say no) at the last minute, and has strict criteria that must be met by those claiming the title producer.  They also only allow three people to share the honours, which, when it comes to giving out gold statuettes, often leaves some very disgruntled players sitting in the auditorium rather than bounding onstage, speech in hand.
The LA Times has the full story on this year's diss: Ryan Kavanaugh.
Jan 13, 2011 Representation of Women, TV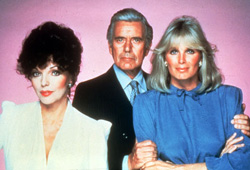 Encouraged by the recent rash of TV-to-movie adaptations (The A Team, Charlie's Angels, Starsky & Hutch, The Dukes of Hazzard and now 21 Jump Street) that have breathed new life (and residuals) into 70s and 80s 'classics', it seems the creators of Dynasty want their turn at the trough of gold.
Dynasty, fondly remembered for its big hair, larger-than-life characters and labyrinthine melodrama, ran on ABC in the US from 1981 to 1989.  Originally conceived as a show about a family who 'lived and sinned in a forty-eight room mansion', Dynasty was a direct rival to CBS's primetime hit, Dallas.  The first season followed the Dallas template of oil tycoon shenanigans, but the introduction of Alexis Colby (Joan Collins) at the top of season two saw it find its unique selling point, and shot it to the top of the ratings.
Levi-Strauss would have had a field day: for the next seven years, the raven-haired, Machiavellian Alexis grappled (often quite literally, the show was famous for its physical fights between female characters) with silvery-blonde Krystle, for love, money, property, and sometimes just for kicks.  The writers toned down the business (i.e. male-driven) story lines in favor of the female stuff, and fed the characters a constant flow of illegitimate children, half-siblings, serial husbands, murder trials, arson attacks and reversals of fortune so sudden and vicious  that it was never sure whether Krystle and the forces of good would triumph over Alexis and her minions.  Women definitely ruled this world.  And viewers lapped it up – the 'Moldovian Massacre' cliffhanger episode in 1985 was watched by sixty million people.
Esther and Richard Shapiro are the original creators, and, rather than trying to return to the prime-time glory of the 80s, want the movie to be a prequel, explaining how the characters originally met, and how the battle lines came to be drawn.  They envisage a 'Mad Men-era' setting for the young Blake Carrington to meet Alexis, his future wife and nemesis, and plan to take a much more cinematic approach:
"In a way, these characters were prisoners in television," added Richard Shapiro. "We were always constrained by the smaller budget of a TV series, and all the standards and practices that governed the content of the show. In the movie, if we want to have some James Bond style action, we can afford to do that. If we want to have a steamy love scene, we can do that. If we want to go a few steps beyond what they would allow on 1980s TV, we can move ahead those few steps, and then some."
Gotta hope it's awesome, and that it makes it to the big screen. The much-hyped Dallas movie is currently languishing in turnaround, as the studio decided not enough young people remembered the TV show to go and see a movie. However, with older, female-skewing audiences becoming more of a target, this could have legs.
Jan 10, 2011 Movie Industry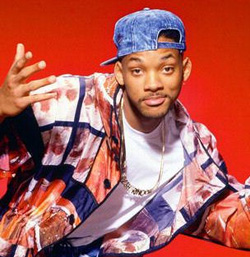 Leonardo Di Caprio and Brad Pitt top the A-list partly because they have well-established and efficient production companies of their own (Appian Way and Plan B respectively).  This means they have a permanent team whose job it is to find, review and develop screenplays with the sole purpose of generating a suitable lead role for Brad or Leo.  This is the best way to ensure that your star vehicles take you to the top.
Other actors aren't so lucky, or ambitious, and have a much more scattershot approach to selecting their next project.  It's a well known truth that no one in Hollywood reads anything.  They usually get other people to do it.  Supposedly an actor's manager or agent reads screenplays, but they usually devolve the job to an assistant, or even an unpaid intern.  There are a gazillion unproduced screenplays out there to wade through.  No one likes to be made to look an idiot, and say something is good when others might not agree. So the usual answer is "No: reject".
However, the greatest creative triumphs come from taking the greatest risks.  And this list from Yahoo! Movies, of the 'Great Roles Actors Turned Down' proves that "Who Dares Wins". Will Smith could have been Neo. Think about it.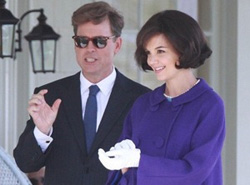 The Katie Holmes/Greg Kinnear-starring miniseries about the Kennedy family has been shelved by the History Channel after a sustained protest campaign about the accuracy of the content. "We have concluded this dramatic interpretation is not a fit for the History brand".
Liberal politicians and historians objected to what they said were major inaccuracies in the story-telling, and asserted that the miniseries was a vindictive attempt to smear the name and memory of the Kennedys. Broadcasting it on the History Channel would have implied that it was historically based, factual, rather than fictional drama. The miniseries may well be broadcast by another channel at some point, but it will have lost its stamp of authenticity.
True life stories are a legal and creative minefield for film and TV producers, especially when they are about controversial public figures like JFK. The First Amendment allows certain protections in the US when it comes to putting an interpretation of real life events and people on screen; it's acknowledged that a certain amount of dramatic licence is needed to shape truth into a timely and engaging narrative. Reality can't always be shoe-horned into a neat three act structure. Nonetheless, the First Amendment doesn't stop a lot of individuals who have been unhappy at their depiction from bringing lawsuits against film and programme-makers, and the threat of costly litigation is a dangerous one. Now it looks like censorship – particularly of recent political history – is added to the mix. No one really minds when the Tudors are depicted as sex-crazed and Machiavellian, full of greed and vanity, but when it comes to showing more recent political players as being that way, it appears that a line has been crossed.
Audiences have spent ten years getting used to the ragged and chaotic story-telling of reality TV, and have a proven taste for "based on a true story" movies. The success this awards season of THE KING'S SPEECH, THE SOCIAL NETWORK, 127 HOURS, and THE FIGHTER (all based on real characters, real events) shows that there is a viable market for factual narratives. Mark Zuckerberg's reportedly negative reaction to THE SOCIAL NETWORK has not resulted in a costly lawsuit, but instead generated huge amounts of publicity – for both the man and the movie, ending with Zuckerberg being declared Time's Person of The Year 2010. Factual drama isn't going to go away anytime soon. However, film and program makers need to be able to argue the case for their interpretation, both in meetings with networks and studios, and in court.
History Network Pulls Plug on Kennedy Project– AP
Stop Kennedy Smears – the website that won
From Real To Reel: In fact-based films, reality and story-telling collide – LA Times, December 27, 2010
Jan 5, 2011 Music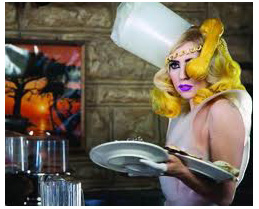 OK, last round up from 2010 – a handy guide to the best music videos as voted by the Vevo staffers.
Telephone (Lady Gaga/Beyoncé) – An epic mini movie channeling Madonna, Tura Santana, Quentin Tarantino, Roger Corman and Oliver Stone, this rightfully put Lady Gaga at the forefront of the pack when it comes to being considered an audio-visual artist rather than just a pop star. And the blogosphere went CRAZY the day it first aired.
Love The Way You Lie (Eminem ft. Rihanna) – Art imitating life imitating… given that both stars involved have a history with domestic violence and their real-life (ex-) partners, here was another bloggers' dream, fueled by the ambiguous message of the images. Anti-violence, or a wifebeater's manifesto?
Baby (Justin Bieber ft. Ludacris) – no controversy or ambiguity here, just singing, dancing and bowling. Isn't it nice that the Bieber has such a diverse range of friends?
Symphonies (Dan Black ft. Kid Cudi) – lush bricolage as Black transforms his song lyrics into a dazzling array of movie and pop culture references.
Firework (Katy Perry) – rather a literal interpretation of the lyrics ("Baby, you're a firework") as Katy and Co. shoot sparklers from their chests, but there's a cute narrative in here about underdogs (Perry dedicated it to the LGBT It Gets Better campaign) and sumptuous backdrops courtesy of Budapest. And you'll be singing "Boom boom boom, even brighter than the moon moon moon" for days.
OMG (Usher ft. will.i.am) – simple but effective performance video, tossing out a range of distinct visual motifs. If you don't like one, there's another one along in a minute.
Shutterbugg (Big Boi ft. Cutty) – a basic performance in a warehouse enlivened by wacky visual effects.
Waka Waka (This Time For Africa)(Shakira) – More of a promo for the FIFA World Cup than a music video. But that's the whole point.
The Suburbs (Arcade Fire) – haunting, Spike Jonze-directed narrative about the loss of innocence
Estoy Enamorado (Wisin & Yandel) – innocuous reggaeton transformed into a protest song against SB 1070, shows immigrants just fading away from their daily lives
Dilly (Band of Horses) – surreal biker gang rampage through a 1970s-hued Mojave desert, line dancing and shooting imaginary guns.
Born Free (M.I.A.) – another controversial entry (it was banned from YouTube on initial release, reinstated, banned, re-reinstated), the narrative shows a SWAT team battering their way through an apartment block in search of redheads, who are then bussed out to the desert and shot. A telling comment on genocide, or over the top for a pop promo?
Real Love (Delorean) – Hipsters and their dogs.
Whip My Hair (Willow Smith) – colorful, creepy, vocoded, a generation crick their necks.
Runaway (Kanye West) – not a mere music video (Kanye wouldn't stoop so low) but a 34 minute Full Length Movie.
View the Full List in HD at Vevo
Jan 5, 2011 TV
The Guardian reports that the BBC has received more than 3,400 complaints about a cot death storyline, which saw a bereaved mother swap the corpse of her own child for next door's live baby.
Executive producer Bryan Kirkwood responded: "We appreciate this is a challenging storyline and have taken care to ensure viewers were aware of the content in advance of transmission.
"We also provided actionline numbers at the end of each show, offering advice and support to those affected by the issues."
EastEnders has a large built-in audience, and uses its primetime status to push the envelope when it comes to coverage of social issues on TV. The producers know that an 'Enders storyline will attract a lot of media attention. Sometimes they use this to positive effect (provoking discussion about what it's like to be a gay Muslim, for instance), but sometimes it's sheer sensationalism.
Should soap opera's prime directive be realism? Or entertainment? And under what category do you file a plot involving dead babies that sounds as though it's ripped from a Victorian penny dreadful?