Archive for February, 2011
Feb 28, 2011 Movie Industry, Representation of Women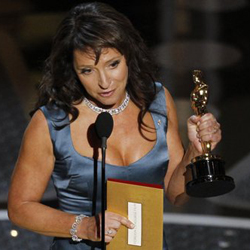 So the Oscars are over for another year. Amidst last night's hoopla, unsurprisingly, white men gave themselves all the prizes. Usually for making films about other white men. Unless they're turning their male gaze on white women, and sort of missing the point(e) (Black Swan). And so the circle continues. It seems a woman's main function at the Academy Awards is the wearing of a pretty dress and some borrowed diamonds.
The only woman who won in a non-actress category was Susanne Bier, director of the Best Foreign Language Film, In A Better World.
In other news, the MPAA's annual breakdown of who bought tickets to see movies in theatres last year shows that women make up 50% of the North American movie-going public. But they don't get to see themselves represented onscreen in those proportions, not in terms of lead female characters, or female helmed, shot or written movies. It's 2011. It's getting kind of old.
Who Goes To The Movies – Indiewire
Feb 24, 2011 Movies
Everyone's thinking it, but Moki.tv have crunched the numbers and come up with a chart.
We looked at the 20 most popular movies each year, for the past 20 years. The key, we think, is to look for movies that some love and some hate, which is the likely profile of a bad movie that's "safely" manufactured for an existing fanbase. In other words, movies that are polarizing.
Polarizing movies are, therefore, the kind of slop that's thrown at comicbook and Twilight fans who'll pony up for tickets no matter how bad the actual product is. And that's all the studios seem to want to make – minimum risk, minimum creativity.
In other news today, Warner Brothers have announced that they will be remaking 1991 cheesefest The Bodyguard as a star vehicle for an as-yet-undecided female popster.
Visual Evidence Movies Are Getting Worse – Moki.tv
Warner Bros Remakes The Bodyguard– Deadline.com
Feb 23, 2011 Advertising, Movie Industry
The votes are in! Brandchannel has been counting the logos-turned-towards-the-camera in the top box office movies of 2010. Overall winner (again) is Apple, with its products appearing in 30% of no.1 movies. The movie with the most product placements is Iron Man 2, with 64 identifiable brands.

Product placement is very much here to stay in movies, although Brandchannel identifies a slight downward trend in the number of different products featured in a movie – the average number of brands making a cameo per film last year was 17.9. That's perhaps because brand managers are getting more adept at weaving a brand through a whole movie (as Budweiser does with The Fighter) rather than producers taking a scattershot approach ("what can we ram into this scene?").
And this year's lifetime achievement award goes to Glock: consistently fêted and fetishized by American movies, with taglines like "Rock out with your Glock out", it's sad and fitting that a brand of gun provides the ultimate synergy of marketing and filmmaking.
Brandcameo Product Placement Awards – Brand Channel
Feb 21, 2011 Advertising
The trailers have been generating buzz for weeks. Finally, the Robert Rodriguez-directed Nike spot (spot? it's almost six minutes long) has been released online to coincide with the NBA All-Star Weekend, and for this week only, could be showing at a movie theatre near you, in support of a range of main features.
As the LA Times points out, it might be more fun than the movie you've paid to see. It stars Kobe Bryant, a LOT of explosions, and features Bruce Willis, Danny Trejo, Kanye West, zombie ballers and a cute dog. Shot over just two days on an LA set, it probably wasn't as expensive as it looks, but Nike still threw a lot of resources at this one. Money well spent – it's got the internet talking, and makes traditional 30-second TVCs look soooo twentieth century.
Feb 17, 2011 Movies, Video Games
The trailer for Dead Island is doing the rounds. Very powerful stuff.
UPDATE: Dan Bull's Shaun of The Dead Island mashup is an instant classic also. Should we be watching zombie movies backwards from now on?
Feb 15, 2011 Video Games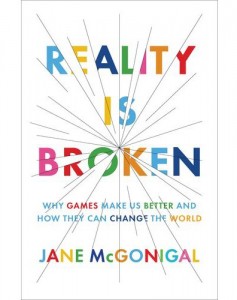 Up to a point. Jane McGonigal, the author of a new study into the effects of playing video games suggests that anything up to 21 hours a week can enhance a range of real world skills.
When we play a good game, we get to practice being the best version of ourselves: We become more optimistic, more creative, more focused, more likely to set ambitious goals, and more resilient in the face of failure. And when we play multiplayer games, we become more collaborative and more likely to help others. In fact, we like and trust each other more after we play a game together — even if we lose! And more importantly, playing a game with someone is an incredibly effective way to get to know their strengths and weaknesses–as well as what motivates them. This is exactly the kind of social knowledge we need to be able to cooperate and collaborate with people to tackle real-world challenges.
However, McGonigal believes that adverse effects start to kick in over the 21 hours a week mark. If you're playing 28 hours a week or more, "the time starts to distract you from real life goals and other kinds of social interaction that are essential to leading a good life". If you can keep your gaming in check, however, it becomes something that has a "spill-over" impact on the things you do subsequently. This includes boosting confidence and teamworking skills.
McGonigal points out that "the average young person [in a US study] racks up 10,000 hours of gaming by the age of 21". In Outliers, Malcolm Gladwell identifies 10,000 hours as the amount of practice required to achieve "true mastery", or "world class expertise", in any particular skill, be it writing fiction, playing the violin, or programming in PHP. Does this mean that Generation Y is stuffed with Jedi masters as yet unaware of their superpowers? How many more Zuckerburgs are there out there? The next ten years could get very interesting for the human race.
Video Games: An Hour A Day Is Key To Success In Life – Huffington Post
Reality Is Broken – Jane McGonigal's site
Wanna get to Carnegie Hall? Got 10,000 hours?– The Artful Manager on Gladwell
Feb 14, 2011 Advertising, Music
Although Eminem only took home two of the ten Grammys he was nominated for last night, he still rocked the Staples Center with two blistering performances, including Love The Way You Lie against a flaming backdrop:
He made news headlines last Sunday too, featuring in not one but two promotional spots aired during the Superbowl. With record sales in a permanent nosedive, this is where artists' revenue streams look to come from in the future. Eminem has signed endorsement deals with both PepsiCo's LiptonBrisk tea and Chrysler cars, and has creative control (very unusual) over the promotions he will appear in. These are lucrative arrangements that will roll out over of the next few months, as outlined by Adweek, with Chrysler and PepsiCo pumping cash into Em's upcoming tour. Eminem hasn't lent his name to any products before, so his endorsement may make audiences sit up and take notice. It also demonstrates that even hiphop superstars have to figure out a way of paying the bills.
Super Bowl just the Start for Eminem – Adweek
Feb 13, 2011 Advertising, Copyright, Digital Technology, Movie Industry, Piracy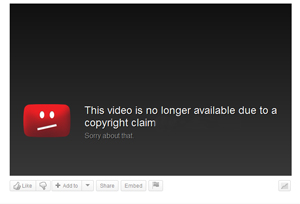 Any quick scan of YouTube reveals a dizzyingly inconsistent array of movie and TV show clips. In theory, clips should only be uploaded by the copyright holder, but movie studios and media conglomerates have a range of attitudes on what can and can't be uploaded by fans under the remit of "Fair Use".
Fair Use is the legal principle that allows others to quote excerpts from copyrighted work for the purposes of "criticism, comment, news reporting, teaching, scholarship, and research." Given that "scholarship and research" has never been a prime function of YouTube, in the early days of the site, major movie studios were quite aggressive about getting clips taken down.  However, around 2008, studios realised the power of viral videos and interactive marketing (posting clips for people to comment on) and shifted their position. Martin Anderson explores the ramifications in an in-depth feature over at Shadowlocked.
It was the time of Facebook-for-everyone, the time when 'viral marketing' transited from the water-cooler to the company policies of PR sites; a time when it began to occur to the major studios that they might consider the harsh object-lesson learnt by the music companies' eternal take-down war with the MP3 uploaders – particularly since their own product could not be encapsulated in the 10-minute limits of a YouTube upload (recently extended to 15 minutes for many users, though to little practical difference, in these circumstances).
Young people, people far cooler than they were, the very people whose wallets, purses and general esteem the media giants were desperate to invade, were out there doing work and getting product-coverage that their own marketing departments would have killed to achieve by conventional methods. They weren't getting a dime for all this work, and to boot they could now be completely controlled by the Content ID architecture.
The ContentID software allows the automated tracking of clips. It scans content and matches it back to a database, so that copyright holders can
* Identify user-uploaded videos comprised entirely OR partially of their content, and
* Choose, in advance, what they want to happen when those videos are found. Make money from them. Get stats on them. Or block them from YouTube altogether.
Curious, Anderson tried uploading clips from different properties to see what the reaction would be:
NBC Universal's North American stake on the excellent 2008 black comedy In Bruges meant that my clip upload was blocked in the US, while Lionsgate decided to monetise my uploaded clip of 2003's The Grudge by adding commercials. NBC Universal banned my uploaded clip of Jurassic Park: The Lost World all over the world, though they seem able to tolerate a 16-second clip.
Anderson also identifies several YouTube users who only post HQ clips from movies during the promotional period of a DVD or theatrical release. Genuine fans or studio sock puppets?
As audiences become more and more resistant to traditional forms of advertising, it seems that media providers have their eye on "user" generated content as a way of getting their message across. The whole ethos of YouTube is 'Broadcast Yourself', and it would be a shame if that spirit was lost in a slurry of marketing videos produced by the media institutions who have a stranglehold on all our other channels of communication in the first place.
US Copyright Office on Fair Use
YouTube and the major film studios – Shadowlocked
YouTube's Content ID
Feb 11, 2011 Movie Industry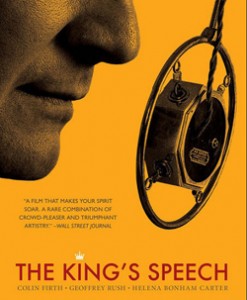 The Guardian does some number crunching on The King's Speech's projected box office take, and wonders aloud where all that money will go.  The film was originally backed by the UK Film Council – which will be wrapped up by April 1st. Over at the UKFC they're positive about the profit, saying it's a vindication of the policy of using public funds to back cultural product.
"The irony of the situation has been observed," admits Tanya Seghatchian, head of the UKFC's film fund. "But what we're feeling right now is triumphant. What we have is the most successful independent British film of all time, made as a direct result of public funding. That's a great validation and a great thing to have at the end of a very difficult eight-month period. Yes, it's a bittersweet moment. But it's also an amazing legacy for the UKFC as a whole."
However, the projected £12 million that may come back (a twelve-fold return on the investment) will just about cover the estimated UKFC wind-up costs which come in at £11 million.
The Guardian's numbers make for interesting reading, and they point out the difficulty of getting a full share of profits from US distributors, who are notorious for their accounting practices that can present even a wildly successful movie (Harry Potter And The Order of the Phoenix, anyone?) as being in the red. Studios have a schizophrenic attitude to box office figures, trumpeting the take during a movie's theatrical run, then minimizing what can be considered actual profit that will be returned to investors or talent.
Never mind the BAFTAs – who will get The King's Speech riches? – The Guardian
Studio Shame – Deadline Hollywood Daily