Archive for October, 2011
Oct 10, 2011 masculinity, Media Effects, Movie Industry, Movies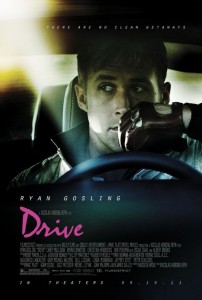 Michigan resident, Sarah Deming, is suing her local multiplex and the distributors of Ryan Gosling-starrer Drive.
Deming says the movie was promoted "as very similar to the Fast and Furious, or similar, series of movies" but actually "bore very little similarity to a chase or race action film, having very little driving in the motion picture". She also claims that
"Drive was a motion picture that substantially contained extreme gratuitous defamatory dehumanizing racism directed against members of the Jewish faith, and thereby promoted criminal violence against members of the Jewish faith"
and hopes that anyone who feels the same way will join her in a class-action suit. She's seeking the price of her ticket and further damages.
There have been many rumblings about the way Drive was marketed prior to this lawsuit. The movie itself doesn't have any identity problems. It's an extremely violent, Euro arthouse flick from beginning to end. However, it was shot within the Hollywood system and contains many Hollywood stars – who all love to play against type given the opportunity – and has to earn its nut at the box office. This always creates a headache for the marketing department who have to ask "How do we reach the biggest possible audience for this movie?" rather than "Who is the best audience for this movie?".
Thomas Rogers, movie critic and editor at Salon.com, was
"…fascinated by the target demographic of the movie — like, who's supposed to see it in the first place? There are people who are going to see it because of Ryan Gosling, but I feel like the normal Ryan Gosling audience isn't all that fond of seeing someone stomp people to death. The movie has these gay movie references — mostly to Kenneth Anger's underground film "Scorpio Rising" — but there's really nothing overtly gay about it. The title sequence has this campy 1980s lettering, which is duplicated in the film's ad campaign — and a hilarious, awesome fake-'80s synth score — which makes it seem like it might have a romance or comedy element to it. But the film's only sex scene involves two people touching a stick shift, and there's probably only one joke in it. I think, basically, this movie manages to frustrate everybody's expectations of it — to its great credit.
By attempting to broaden the target audience (including Ryan Gosling fans, Fast and Furious Fans, crime caper fans, even Mad Men fans thanks to the presence of Christina Hendricks) the studio ended up disappointing a lot of people and generating some horrible word of mouth. That's the kiss of death in today's Twitter-driven marketplace. And now it's generated a lawsuit.
Whether Deming's case ultimately gets dismissed as frivolous, or settled out of court just so it will go away, remains to be seen. However, it does raise some interesting issues about what audiences feel they are being duped into by the Hollywood machine.
For decades, movie trailers have attempted to make bad acting and story-telling look palatable, cherry-picking the six good moments from an absolute bomb in order to lure an audience into going to see it. Is this artistic licence, or classic bait-and-switch? Do movie-goers have a duty to inform themselves about the actual content of a film (Sarah Deming could have saved herself a lot of time and trouble by reading some of the advance reviews of Drive online) or do they have a right to expect that the general marketing honestly represents what they are about to see?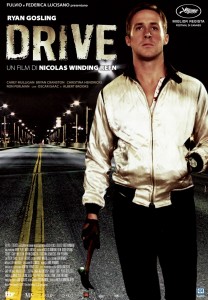 Are US audiences so infantilised by the constant stream of superheroes and aliens and fighting robots that they are unable to deal with human-on-human violence as part of a fictional story? The Italian poster for Drive (see right) makes no bones about the tone of the movie. Like the US version (top), it features Ryan Gosling, but shows him striding purposefully along a dark road, (bloodstained?) hammer in hand, murder in his eyes, NOT looking dreamy behind a wheel. Was this so unacceptable to Gosling fans entranced by his recent performance in Crazy, Stupid, Love? Was it fair to lure them into watching Drive anyway?
The furore also raises questions about why the kind of easy, casual violence and prejudice that runs rampant in summer blockbusters is acceptable to mainstream US audiences, whereas the one-on-one gritty and realistic violence depicted in Drive is not. The body count of Transformers: Dark of the Moon was way higher than Drive's, but Michael Bay glosses over deaths as collateral damage, the inevitable consequence of a thrilling action scene, nothing anyone in the audience has to deal with emotionally or viscerally. The potentially negative impact of the racism represented by Mudflaps and Skids in Transformers 2 far surpasses any of the anti-semitic snarls of the hoods in Drive (clue: one movie is aimed at children still forming their view of the world, one is not).
No one's bringing a class action suit against Michael Bay and his corporate paymasters, Hasbro and Paramount. Perhaps Deming and her attorneys should be litigating against more culpable targets?
Watch the Drive trailer for yourself:
The Drive Backlash: Too violent, too arty or both? – Salon
Detroit Woman Sues "Drive" Film-makers– Click On Detroit
My "Drive" review – Planet Fury
Oct 4, 2011 Horror, Movie Industry, Movies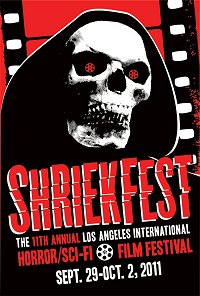 The first weekend in October is always one of my favorites in the year. It's Shriekfest, three days of low (and micro) budget horror features and shorts, with plenty of heated genre discussions between screenings at the Raleigh Studios. And this year there was a great food truck on site.
Shriekfest showcases the kind of movies that will never make it to local multiplex screens. They're usually labours of love, funded personally and piecemeal. Most focus on a single location, with a limited number of characters, and are shot on a really tight schedule. Whatever budget there is (and that's often less than $100K for a feature) is mostly thrown at practical special effects – this is horror, after all, and the stories demand buckets and buckets of blood. These are the kind of constraints that inspire genuine creativity. There are no easy answers or quick cash fixes. Film-makers are dealing with raw story and only the most basic of film-making tools in order to communicate with their audience. The resulting entertainment puts big budget studio movies to shame.
The 2011 program included vast numbers of highly entertaining – and slick – shorts, as well as some stand-out features. My personal highlights included:
The Moleman of Belmont Avenue, a horror comedy, follows the misadventures of bumbling brothers, Marion and Jarmon Mugg, as they attempt to eradicate a basement-dwelling pest from the apartment building they inherited from their mother. A sharp and inventive script, two excellent central performances (from John LaFlamboy and Mike Bradecich), and a lively supporting cast (including Robert Englund) make this a gem from beginning to end.
Isle of Dogs, a stylized and bloody tale of revenge, won the Best Thriller award. The narrative starts out as a typical gangster flick, all about testosterone and disputed women, but it spirals upwards into Jacobean tragedy. Barbara Nedeljakova (Hostel), Edward Hogg (Bunny and the Bull) and Andrew Howard (I Spit On Your Grave, Limitless) relish the material and deliver dynamic performances from the top all the way through to the blood-soaked, Grand Guignol climax.
Best Horror Feature went to Absentia, a low budget but nonetheless chilling supernatural thriller. This tale of two sisters in suburban Los Angeles provides a great example of a simple story simply told. The horror derives from the modern mundane – a pedestrian tunnel under the freeway – but incorporates myths from many different cultures in order to tap into the audience's primal fears.
In the current climate of remakes, rehashes and plain ol' regurgitation spewed out of Hollywood by the studio machine, it's always refreshing to be reminded that there are film-makers out there with the ability to tell an original story in a fresh way – and spend less than most studio movies' catering budgets in the process. Kudos to Shriekfest for bringing the best of independent horror to a wider audience.