Feb 1, 2011 Media Careers, Movie Industry, Representation of Women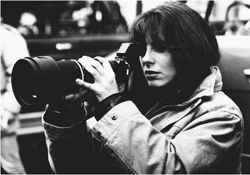 For those of us working in the industry, the San Diego State University's Center for the Study of Women's numbers come as no surprise. Their annual Television and Film report states that, despite Kathryn Bigelow's high profile Best Director win at the Oscars last year, the number of women in prominent filmmaking positions has stagnated since 1998. A paltry 16% of key jobs on the top 250 films of 2010 were held by women (no change from 2009, and equivalent to 1998 levels). Just 2% of the movies had a female cinematographer, 7% were directed by women: it seems the male gaze is the only way we get to view things.
As the list of this year's Oscar nominees attests (as usual, women are nominated in barely anything but 'actress' categories), Hollywood is run by and for men. Women are actively discouraged from even pitching for big-budget projects, according to director Catherine Hardwicke in The Wrap, who thought she might have had a shot at directing The Fighter.
""I couldn't get an interview even though my last movie made $400 million…I was told it had to be directed by a man — am I crazy?…It's about action, it's about boxing, so a man has to direct it … But they'll let a man direct Sex in the City or any girly movie you've ever heard of."
This has huge implications – and not just on the aspirations of female creatives trying to break in. Says Martha Lauzen, executive director of the SDSU Center:
"I don't think people know when they walk into a theater that nine out of 10 times they'll see a film by a male director…It's not just an employment issue for women, it's a cultural one for all of us. Movies make a difference in how we see the world and how we see certain groups of people. These are the architects of our culture."
Melissa Silverstein, co-founder of the Athena Film Festival adds:
"If this were a Fortune 500 company and they looked at these statistics, they would have a diversity committee working on this immediately… How could you have a company in the 21st century and less than 10% of its leaders are women?"
A diversity committee that could impose a quota system on Hollywood studios, not just to ensure fair representation of women (53% of the US population, never forget), but minorities across the board? Now there's an appealing thought…
Center for the study of Women in Film and Television
Women still a rarity in top film jobs – LA Times
Despite Bigelow's Oscar, Celluloid Ceiling Higher Than Ever for Women– The Wrap
Women In Film – let's make that change