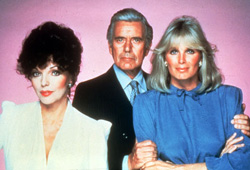 Encouraged by the recent rash of TV-to-movie adaptations (The A Team, Charlie's Angels, Starsky & Hutch, The Dukes of Hazzard and now 21 Jump Street) that have breathed new life (and residuals) into 70s and 80s 'classics', it seems the creators of Dynasty want their turn at the trough of gold.
Dynasty, fondly remembered for its big hair, larger-than-life characters and labyrinthine melodrama, ran on ABC in the US from 1981 to 1989.  Originally conceived as a show about a family who 'lived and sinned in a forty-eight room mansion', Dynasty was a direct rival to CBS's primetime hit, Dallas.  The first season followed the Dallas template of oil tycoon shenanigans, but the introduction of Alexis Colby (Joan Collins) at the top of season two saw it find its unique selling point, and shot it to the top of the ratings.
Levi-Strauss would have had a field day: for the next seven years, the raven-haired, Machiavellian Alexis grappled (often quite literally, the show was famous for its physical fights between female characters) with silvery-blonde Krystle, for love, money, property, and sometimes just for kicks.  The writers toned down the business (i.e. male-driven) story lines in favor of the female stuff, and fed the characters a constant flow of illegitimate children, half-siblings, serial husbands, murder trials, arson attacks and reversals of fortune so sudden and vicious  that it was never sure whether Krystle and the forces of good would triumph over Alexis and her minions.  Women definitely ruled this world.  And viewers lapped it up – the 'Moldovian Massacre' cliffhanger episode in 1985 was watched by sixty million people.
Esther and Richard Shapiro are the original creators, and, rather than trying to return to the prime-time glory of the 80s, want the movie to be a prequel, explaining how the characters originally met, and how the battle lines came to be drawn.  They envisage a 'Mad Men-era' setting for the young Blake Carrington to meet Alexis, his future wife and nemesis, and plan to take a much more cinematic approach:
"In a way, these characters were prisoners in television," added Richard Shapiro. "We were always constrained by the smaller budget of a TV series, and all the standards and practices that governed the content of the show. In the movie, if we want to have some James Bond style action, we can afford to do that. If we want to have a steamy love scene, we can do that. If we want to go a few steps beyond what they would allow on 1980s TV, we can move ahead those few steps, and then some."
Gotta hope it's awesome, and that it makes it to the big screen. The much-hyped Dallas movie is currently languishing in turnaround, as the studio decided not enough young people remembered the TV show to go and see a movie. However, with older, female-skewing audiences becoming more of a target, this could have legs.