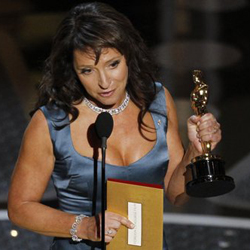 So the Oscars are over for another year. Amidst last night's hoopla, unsurprisingly, white men gave themselves all the prizes. Usually for making films about other white men. Unless they're turning their male gaze on white women, and sort of missing the point(e) (Black Swan). And so the circle continues. It seems a woman's main function at the Academy Awards is the wearing of a pretty dress and some borrowed diamonds.
The only woman who won in a non-actress category was Susanne Bier, director of the Best Foreign Language Film, In A Better World.
In other news, the MPAA's annual breakdown of who bought tickets to see movies in theatres last year shows that women make up 50% of the North American movie-going public. But they don't get to see themselves represented onscreen in those proportions, not in terms of lead female characters, or female helmed, shot or written movies. It's 2011. It's getting kind of old.
Who Goes To The Movies – Indiewire