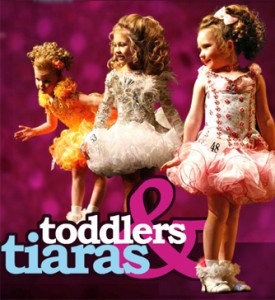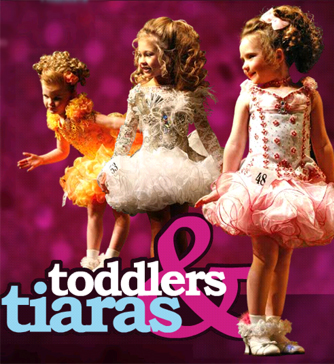 The test of the morality of a society is what it does for its children.
~Dietrich Bonhoeffer
For five seasons, TLC's Toddlers and Tiaras has been inviting viewers to ogle at little girls parading in inappropriate costumes, and encouraging the pageant Moms to exploit their daughters even more for behind-the-scenes exposure. The latest scandal involves a clip showing a three year old strutting her stuff in hooker boots, dressed as Vivian from Pretty Woman.
Is it time to call time on the show? One blog, Pigtailpals, called for its cancellation back in January:
"Toddlers & Tiaras" is a petri dish of sexualization. Little girls are taught, often times forced by their domineering mothers, to act coquettishly, learn suggestive dance routines, wear sexualized costumes and bathing suits, endure hours of hair and make-up, and are even put on restrictive diets in order to lose weight for competition. This is perverse. While TLC continues to air "Toddlers & Tiaras", the network becomes an agent of this sexualization.
Open Letter to TLC: Cancel Toddlers & Tiaras – Pigtailpals.com
Reality TV has always thrived on the exploitation of its subjects, creating artificial conflict between friends, asking individuals to adopt a "villain" persona, re-editing situations so they fit producers' proposed storylines. However, the reality format is now well into its second decade, and any adult who signs a release form for one of these shows should be aware of what they're getting into. It's a trade off, public exposure for cash. It's a choice adults make.
Reality shows that revolve around non-consenting minors are a different matter. It's bad enough that these two and three year olds are forced into the pageants in the first place (no one is giving any kind of informed consent at that age). However, a child beauty pageant used to be a one-off, ticketed event, with stage performances only committed to Mommy's video camera, and some kind of oversight given to the people watching in the audience. Single men playing pocket billiards? Not welcome. A TV show is an entirely different matter, broadcasting these little girls into living rooms (1.3 million an episode), their sexualized performances preserved for all time in YouTube clips.
The American Psychological Association's 2007 report on the Sexualization of Girls (here) always makes sobering reading. Sexualization is different to healthy sexuality, and occurs when
a person's value comes only from his or her sexual appeal or behavior, to the exclusion of other characteristics;
a person is held to a standard that equates physical attractiveness (narrowly defined) with being sexy;
a person is sexually objectified—that is, made into a thing for others' sexual use, rather than seen as a person with the capacity for independent action and decision making;
and/orsexuality is inappropriately imposed upon a person.
The APA's research suggests the consequences of sexualization in girls include
poor grades ("thinking about the body and comparing it to sexualized cultural ideals disrupted mental capacity")
depression ("sexualization and objectification undermine confidence in and comfort with one's own body, leading to a host of negative emotional consequences, such as shame, anxiety, and even self-disgust.")
eating disorders
All this contributes to a cycle of low self-esteem where a girl values herself solely in terms of appearance and physical attractiveness, but, because she holds herself up to impossible and narrow ideals of attractiveness, she's doomed to self-hatred. And it will only get worse as she ages.
The fact that child beauty pageants are even allowed to happen, let alone be the subject of primetime broadcasts on The Learning Channel, speaks to the morality of modern America. If this is how little girls are treated, and if this is how TV companies make money off them, think of the delights that are in store for them once they hit puberty and beyond.