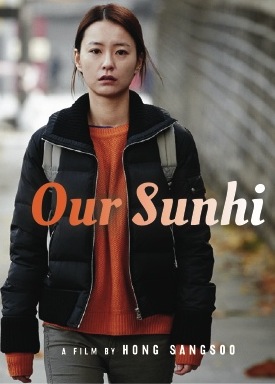 Writer/Director:  Hong Sang-soo
Stars: Jeong Jae-yeong , Jeong Yu-mi , Kim Sang-Joong
Our Sunhi won the Silver Leopard award for its director, Hong Sang-soo, at the 66th Locarno International Film Festival. It's a refined chamber piece, shot digitally, and focused on static dialogue scenes that play out in a single take – it's about as far from a commercial Hollywood movie as it's possible to get.  Nonetheless, it's an absorbing narrative, following a young film student and three men who all believe they know her better than she does herself, and therefore have some kind of claim over her affections.
In Hong's world, characters cross paths, communicate, depart, and move on to the next coffee or beer klatch without once making the connections they think they have.  Alcohol lubricates and befuddles these encounters (empty bottles pile up in the background of almost every scene, part extenuating circumstance, part leitmotif).  The men look back fondly on their conversations with Sunhi, and discuss her behind her back as though she was a Manic Pixie Dream Girl, a captivating yet eccentric female who exists purely to salve their ills.  Yet Sunhi is more than that, a troubled individual seeking her own path, yearning to express sexual desire, and frustrated by the men's insistence on shaping her persona to suit their needs.  Tellingly, she disappears long before the movie's end, amidst the riotous autumnal hues of Seoul's Changgyeonggung Palace.  The men fail to notice her absence, although she continues to be the focal point of their discussion.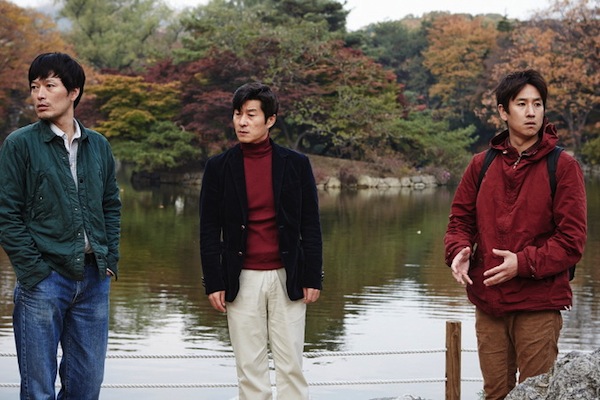 Sunhi (Jeong Yu-mi) herself is emblematic of Generation Y clichés, twisted by indecision and ennui, incapable of solid achievement but convinced of her innate talent and superiority.  After a mysterious absence, she returns to her film school to ask for a letter of recommendation from her former professor,  Choi (Kim Sang-Joong).  She believes studying in the USA will somehow ignite her previously dormant passion for filmmaking.  He scoffs at the idea, and tells her she should embrace creativity and make films now, "while there's still time". He agrees to write a letter, but cautions that it will be 'honest'.
From the first, then, Sunhi is subject to the whims of men who want to tell her what to do.  Stung by the encounter with Choi, she seeks solace in beer, and runs into her ex, Munsu (Lee Sun-kyun).  He, apparently, has had some success with a movie he made about the failure of their relationship, and she feels betrayed.  Munsu, nonetheless, is still in love with her, and waxes lyrical about the reunion to his friend, another movie director, Jaehak (Jeong Jae-yeong).  Choi is also friends with Jaehak, and also inclined to praise Sunhi's feminine mystique – she has been flirting with him in order to persuade him to change the somewhat harsh terms of his reference letter.  When Jaehak finally meets Sunhi, he too falls for her charms – who wouldn't, having heard such glowing recommendations?
Tonally, Our Sunhi combines elements of classic farce (eventually, all Sunhi's suitors collide) with some wry observations on human nature and some poignant emotional punches, such as when Sunhi tenderly caresses Jaehak's face in a bar, only to have the moment destroyed by a food delivery.  The long takes demand powerhouse performances, and Hong gets gold from some of his regular collaborators, especially Jeong Yu-Mi.  She's more than able to anchor us in Sunhi's perspective of the ridiculousness going on around her, twitching melodrama into comedy with a simple furrow of her brow.
Our Sunhi's gentle pace and quietly building absurdity may not be to everyone's taste.  It's the kind of film that rewards those who stick with it, beginning in banality but ending in powerful insights and a decidedly comic final payoff.  Fans of Hong's other work – he's a prolific director with more than a dozen credits – will, as always, enjoy the wry observational nature of this piece, which may also provide an engaging entry point for neophytes.
Our Sunhi will screen as part of AFI Fest 2013 on Saturday, November 9 @ 6:30 p.m. in Chinese 3 and on Tuesday, November 12 @ 7:45 p.m. in Chinese 5.