Archive for the 'Movies' Category
Dec 25, 2014 Movies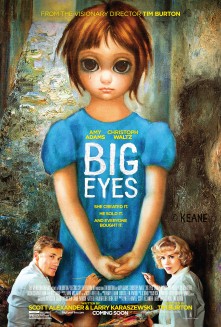 Director: Tim Burton
Writers: Scott Alexander, Larry Karaszewski
Stars: Amy Adams, Christoph Waltz, Krysten Ritter, Danny Huston
Everyone loves a juicy retribution story, especially on Christmas Day. Big Eyes serves up a delicious slice of injustice fought and wrongs righted, seasoned with all the whimsy of the titular paintings. Screenwriters Scott Alexander and Larry Karaszewski (who worked with Burton on his 1994 biopic about another pop culture icon, Ed Wood) fashion Margaret's struggle for recognition into an imaginative moral fable. Their screenplay also explores some more serious questions about art and ownership: key issues for our copyright-disregarding age.
Tim Burton tones down the quirk in favor of a colorful period piece. Margaret (Amy Adams) is an archetypal 1950s housewife who finds the courage to flee her first husband and relocate to San Francisco, gateway to the new era. The cocktail frocks are fabulous, especially those worn by Dee-Ann (Krysten Ritter), bohemian BFF. She discovers it's hard out there for a divorcée with a child to support. Working women are frowned upon, even when they are skilled technical artists. Discouraged, broke, vulnerable, she welcomes the attentions of Walter (Christoph Waltz), a charming landscape painter/realtor, who sweeps her off her feet and back into the security of a respectable married existence. He seems like the nicest guy: attentive, charming, encouraging her to paint her distinctive portraits of big-eyed children. As a cute, artsy couple, they both sign their paintings "KEANE". Walter, the consummate salesman, even arranges a joint exhibition of their work, her Big Eyes portraits alongside his Parisian street scenes, in a hip jazz club.
This is where trouble creeps into paradise. The first sale is one of Margaret's waifs, not Walter's cityscapes. When pressed by the buyer, he takes credit for the work – purely in the interests of the sale, he assures his wife who, reluctantly, lets it slide. The paintings keep selling, Walter keeps lapping up the acclaim, and Margaret is kept hidden in an attic, churning out maudlin representation after maudlin representation of her signature big-eyed child.
Big Eyes is therefore a study of domestic abuse. Walter alternately cajoles and threatens his wife into keeping their little secret, and she must even lie to her daughter about where the paintings come from. She is expected to put up and shut up. A non-Catholic, she stumbles into a confessional where a priest tells her she should obey her husband in all things. But the 1950s are over. By 1964, Margaret has tired of being downtrodden and, once again, grabs her daughter and flees her husband. This time she lands in Hawaii, where she gathers the strength to fight for what is rightfully hers.
Christoph Waltz is excellent as Walter, manifesting the monster with the same deft plausibility as the sweet talker. He takes time to seduce the audience along with Margaret, presenting the abusive husband as charmer rather than thug. In the first half of the movie he's witty and agreeable, readily admitting to minor flaws. When he tells Margaret that, in his mind, they share creative rights to her pictures ("What's yours is mine"), he seems motivated only by the most earnest and pure intentions. Yet, as the lie lingers and grows, the stress of perpetuating the fraud pushes him into some very dark places. Amy Adams gives him plenty to play against, turning in another nuanced and sensitive performance. Her Margaret is never a doormat, just a decent woman who realizes, too late, that there's no easy way out of a gilded cage. She doesn't paint because her husband tells her to, she creates because she is compelled. Her intentions are as pure as they come: she wants to share her children with the world, and she struggles to understand why her husband might exploit her talents so cruelly.
It's a long time since Burton made a movie this intimate, although it's easy to see what drew him to the material. Margaret Keane was an outlier, ignoring the derision of critics to paint what and how she wanted. Burton takes a few none-too–subtle jabs at illustrious members of the art establishment who dismiss popular art, like the Big Eyes prints or Burton's candy-colored movies, as having zero merit. Jason Schwartzman cameos as a San Francisco gallery owner who sneers at Keane's work and then can barely contain his disbelief as prints fly off the shelves. Terence Stamp, as New York Times art critic, John Canaday, also pours vitriol on the Big Eyes kitsch, denying Margaret's talent for capturing emotion with her brush just as much as her husband ever did.
Big Eyes offers a gaudy portrait of creativity as a gift from the gods: some people have it, some people fake it, everyone wants to be loved for it. Although based on a true story, it's a fairy tale about the power of imagination and pure artistic intention to transcend the slime of the real world.
Big Eyes opens Dec 25th.
More information (including a gallery of Big Eyes art) at http://bigeyesfilm.com/
Oct 10, 2014 Movies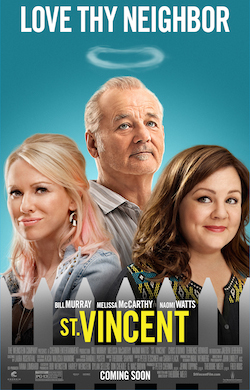 Writer/Director: Theodore Melfi
Stars: Bill Murray, Melissa McCarthy, Naomi Watts, Jaeden Lieberher
At first glance, St. Vincent seems like it might be a straight-up reboot of As Good As It Gets, the quintessential Grumpy-Old-Neighbor-Turns-Out-To-Have-A-Heart-Of-Gold Oscar-bait movie, with a cute kid instead of a cute dog. However, thanks to some deft writing by Ted Melfi, and the presence of a quirky cast, led by the ever-idiosyncratic Bill Murray, St. Vincent turns out to have a charm uniquely its own.
There are no surprises in the basic bones of the story. Vincent (Bill Murray) is an irascible old man with money problems, circling the laundromat, racetrack and liquor stores of his blue-collar Brooklyn neighborhood in a beat-up LeBaron. The only bright spots in his day are visits from pregnant Russian stripper Daka (Naomi Watts), and moments of appreciation from his cat, Felix. This mundane and somewhat miserable existence is jolted onto a new track by the arrival next door of newly divorced mom Maggie (Melissa McCarthy) and her precocious 10 year-old son Oliver (Jaeden Lieberher).
Desperate for cash, identifying a similar level of desperation with the no-one-else-to-turn-to Maggie, Vincent offers to babysit Oliver after school. Thus begins an endearing odd-couple friendship. Vincent sees no reason to filter his activities to make them child friendly, or even appropriate. He simply straps Oliver into the LeBaron and goes wherever he needs to go. En route, Vincent helps Oliver deal with school bullies, teaches him gambling odds, introduces him to his barfly buddies, and to the important women in his life.  This represents a fast-track education in the seamier side for the sheltered Oliver, but he quickly learns to take the old man's eccentricities in his wide-eyed stride.
Naturally, there's a lot going wrong for Vincent, Maggie, Oliver, and Daka, all beset by the kind of problems that are magnified by a perpetual lack of cash. In reality, they'd end up destitute and alone, but, in the feel-good context of this movie, they find a way to pull together and make it work.
If that sounds sugary, it is, unashamedly. St. Vincent doesn't aspire to be challenging, gritty or sophisticated. Instead, it racks up the clichés and contrasts, tossing in some well-worn darker notes (a bully-dominated dodgeball game, a violent thug strong-arming Vincent for his gambling debts, medical bills no one can pay, diseases of old age) on its mission to make the audience experience the fuzziest of warm feels.
Vincent is the best character Murray has had to work within for a while: a chain-smoking, hard-drinking, bad driving clown who keeps acting the asshole even though he suspects no one is still watching – or still cares. Daka and Felix have long ago become immune to his charmlessness. When Maggie and Oliver arrive, he sees them as a fresh audience, quickly and easily provoked to outrage. However, with a new gallery to play to, Vincent discovers time and grief have mellowed him. He no longer gets the same kick out of being a total dick, especially when he sees Oliver responds most to small kindnesses. Oliver's hovering presence and growing approbation accelerates the demise of the self that has served Vincent a lifetime, and, through the trauma of the third act, he is – very late in the game – reborn. Murray plays the crass comedy and insecurity with equal aplomb, and even finds a couple of beats of alcoholic rage and self-loathing to season the mix. His Vincent is the perfect flawed protagonist: that mixed-up, capricious, charismatic guy you can spend a fun-packed couple of hours with, without wanting to give him your number at the end of the night.
McCarthy is also great, toning down the bawdiness to generate a genuinely sympathetic single Mom, struggling but not saintly, down but still swinging a mean right hook, especially when confronted by Vincent's reckless and child-endangering tendencies.   When she has to give an account of her choices (including hiring Vincent as babysitter) to Oliver's teachers (both priests), she tells it exactly how she sees it: life sucks, and we rarely, if ever, meet the standards others set for us. Watts, in a rare comic turn, is hilarious, and newcomer Jaeden Lieberher is sweet, thoughtful and dynamic in the catalyzing role.
St. Vincent is, to use the phrase that riles the titular character on a couple of occasions, what it is. Gentle, heartwarming, fluffy, yet surprisingly subtle in places, it's a movie for when you want to block out the world, or when you really can't be bothered with the rest of the ponderous, flashy or self-important awards season offerings. Stay for the credits: Murray's shambolic rendering of Dylan's Shelter From The Storm is worth the ticket price by itself.
St. Vincent rolls out over the next few weeks, beginning in Los Angeles (Landmark, Arclight), and New York on October 10th.
Tags: Bill Murray, Melissa McCarthy, St. Vincent
Sep 22, 2014 Movie Industry, Movies, Screenwriting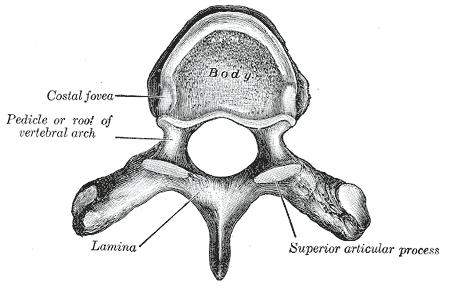 Film is an emotional medium. Reading a book puts you inside the protagonist's head, but watching the movie plants you firmly in her shoes. The immersive audio-visual experience of a darkened theater, especially the score swelling through surround sound, is conducive to feeling, not thinking. We read a film not so much by listening to dialogue, but by watching emotions flicker across characters' faces. We react physically to scares by jumping in our seats, and a dynamic chase sequence gets our pulse racing along with the protagonist's. We commit to sitting still for a couple of hours so we can escape our dead-inside realities on someone else's hot-blooded rocket to the moon. We buy a movie ticket so we can be moved.
This is why it's sometimes counterintuitive to think of a screenplay purely in terms of the rational and intellectual – action sequences, set-ups/pay-offs, act breaks, narrative beats, turning points, climax and closure. A screenplay needs a solid structure and should be organized along logical lines. However, a purely clever and logical screen story leaves the audience cold. Is that all there is? Sometimes it's a good idea to think not about what's moving your story forward, but what's holding it together, what's keeping the audience engaged from scene to scene.
The best screenplays rely on an emotional spine to engage hearts as well as heads in the opening pages, and thus carry the audience all the way through to the final credit roll.
An Emotional What? Read more at Litreactor.com
May 31, 2014 Comics, Movies, Music
Director: Lukas Moodysson
Writers: Lukas Moodysson, Coco Moodysson (comic book)
Stars: Mira Barkhammar, Mira Grosin, Liv LeMoyne
It is a truth universally acknowledged that being a grown up sucks – especially when compared to the adolescent joie de vivre and sheer silliness depicted in We Are The Best. Lukas Moodysson's accomplished take on his wife Coco's comic book, Never Goodnight, is bittersweet, hilarious, and life affirming by turns.
Set in Stockholm, 1982, We Are The Best follows the misadventures of Bobo (Mira Barkhammar) and Klara (Mira Grosin), 13-year-old BFFs, as they attempt to recreate the spirit of 1976 in their local youth club music room. They embark on a classic rock 'n' roll hero's journey, from learning to play, past the obstacles thrown up by allies, including their third musketeer, Hedvig (Liv LeMoyne), and enemies, through heartbreak and major artistic differences before ending in a triumphant performance in front of the biggest crowd they've ever seen. The only crowd, in fact.
We Are The Best hits many resonant notes. Bobo and Klara are outsiders from the get-go, painfully aware of the differences between them and their pink-clad bubble blonde classmates. Like so much in the history of popular music, it's all about the hair. Klara owns her difference, sporting a perky Mohawk as an outward signifier of her self-proclaimed rebel status. Bobo is less committed. Her coarse crop (as her mother points out to party guests in the opening scene) is self-inflicted, and, like so many experiments carried out at that age, regretted. Bobo angsts about whether or not her short hair makes her look ugly, and visibly winces when teased about her lack of beauty by some passing older boys. Klara flings insults in response, and attacks the bullies where it hurts – via the schedule for the practice room.
This is Sweden, so even a youth club is run on principles of absolute fairness. If a band wants to practice, they need to fill in the booking sheet, a protocol conveniently forgotten by the bullies, known collectively as drudge rockers Iron Fist. Kenneth and Roger, the mild-mannered youth workers in charge of proceedings, have to admit that if Klara has penciled her name on the form, she's entitled to the slot. So Klara and Bobo find themselves in temporary possession of a bass guitar and a drum kit. Neither of them have any clue what they want to do with the opportunity other than make noise and annoy people. They're the spirit of punk incarnate.
And so a legend is born. While suffering the indignities of a PE class, Klara comes up with a song called "Hate The Sport". Aware that their complete lack of musicianship can only get them so far, they recruit fellow outsider, Christian music nerd Hedvig. Bobo and Klara start out in awe of Hedvig's classical guitar skills, but soon they embrace her entirety. The duo becomes a trio and, naturally, Klara gives the newcomer an appropriately shocking haircut to demonstrate her fealty (and cut off her exit point) to the gang.
Like many other rock 'n' roll stories, We Are The Best is at heart a coming-of-age story; music provides a reliable and raucous vehicle for self-discovery. The narrative comes mainly from introspective, doubt-ridden Bobo's point of view: the band is her bridge between childhood and adolescence, between watching and doing. Once she picks up the drumsticks, nothing will ever be the same. Her adventures in punk rock stretch her always-tempestuous relationship with Klara to breaking point, propel her towards her first kiss (and first romantic betrayal), and push her from the shy sidelines to the central spotlight.
Barkhammer, Grosin and LeMoyne are never short of adorable. Moodysson coaxes honest and enthusiastic performances from his young cast, who commit to every scene con gusto. Barkhammer and Grosin play thoughtful Bobo and brash Klara as a study in contrast, yet they're also able to capture the switch that occurs when Bobo asserts herself in pursuit of (what else?) a boy, and Klara, uncharacteristically, reveals her hurt.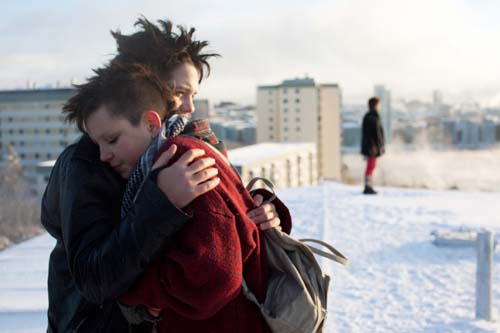 As might be expected from Moodysson (Lilya 4 Ever, Mammoth), there are darker tones in here: Bobo's relationship with her unhappy, lonely mother and absentee father leaves a lot to be desired and will only get worse. Klara's rule-breaking nature is all too likely to get her into trouble in the wider world once she loses her cherubic cuteness. Hedvig is too willing to follow Klara, swapping her strict Christian upbringing for a cult of a different sort. All three girls – as they beg for change from subway riders, or veer too close to the edge of a snow-covered roof – take risks, gladly putting themselves in harm's way, unaware that the magic circle of childhood might not protect them for much longer. The general air of exuberance is undercut with fragility. The girls behave – as all adolescents do – as if they are invincible. The older, sadder, wiser audience knows they are not.
We Are The Best is unashamedly nostalgic, for punk activism of the early 80s, for the verve of early adolescence, for the binary simplicity of Cold War politics (as voiced in Sabotage's Brezjnev Reagan Fuck Off) for a time when identity came purely from affiliations and actions, rather than hazy affirmations posted on social media. If not quite invincible, Bobo, Klara and Hedvig are certainly irrepressible. No one, not Iron Fist, not the two-timing Elis, not Kenneth and Roger, can keep them down. They are very definitely The Best.
Mar 14, 2014 masculinity, Movies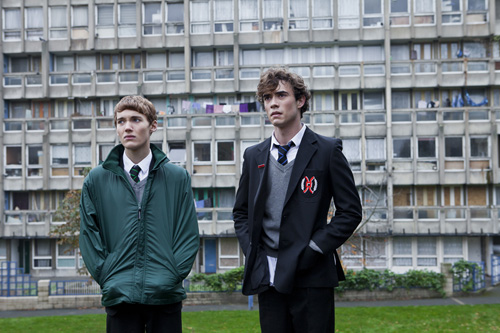 Director: Andrew Douglas
Writer: Mike Walden
Starring: Jamie Blackley, Toby Regbo, Joanne Froggat
2003 seems so quaint to us now.  Before YouTube, before Facebook, before Vine, before Instagram, before Snapchat, internet communication meant instant messaging: text, no pictures.  It was mindblowing.  It was possible to strike up a conversation with a stranger anywhere in the world, via a chatroom, or a random connection ('Who's Online Now?') and build potent, ongoing friendships, without ever seeing anything but a low-res avatar to indicate what the other party might look like.  Now, wary of catfishing, we demand selfies and corroborating social media accounts, but back then, the person on the other side of your screen could be virtually anyone – anyone you, or they, wanted to be.
Based on a true story, Uwantme2killhim? takes us back to those heady days, charting the fervent late-night friendship between sixteen year-old Mark (Jamie Blackley) and his instant message pal, Rachel (Jaime Winstone).   Outwardly, soccer-playing, good-looking Mark seems like one of high school's winners, the type of boy who would find it easy to form strong friendships IRL, but the intensity of his bedroom chats with Rachel reveals his deep-seated insecurities.  For Mark – as for the majority of suburban teenagers – modern life is rubbish, and he grasps at anything that will make his day-to-day existence seem the slightest bit special.

Read the rest of this entry »
Feb 10, 2014 Digital Technology, Movie Industry, Movies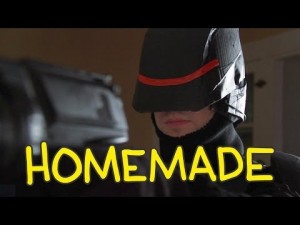 The latest soulless remake heading for our screens is the 2014 version of Paul Verhoven's sardonic sci-fi 1987 classic, RoboCop, the cautionary tale of a Detroit cop sucked into the military-industrial machine who, against the odds (and after being turned into a machine himself) manages to reconnect with his humanity.
Early reviews don't look good, suggesting (oh so predictably) that it's another by-the-numbers actioner lacking in its own merits, dependent on its reference points to the original for the thrills that it does contain. It's yet another lackluster attempt to cash in on our collective memory of a movie that was once worth driving to the multiplex for, and, despite representing some bold counter-programming for Valentine's Day, is unlikely to knock The Lego Movie off its box office perch.
The original RoboCop delighted audiences with Verhoven's trademark mix of brutality and eroticism, his attacks on corporate profiteering and media amorality, and his acute understanding of how to make a torture scene both jaw-dropping and emotionally moving.  The movie generated a robust franchise, including the usual merchandise, two sequels, a TV show, video games and various comic books.  As with all the best speculative fiction, it reflected the times as well as predicting the future. RoboCop took the collective nightmares of Reagan's America — the Star Wars initiative, consumerism, nuclear Armageddon, inner city no-go zones — and put them through the blender of violent movie entertainment, accompanied by the distinctive thud-thud-whirr of RoboCop doing his trademark moves.  Peter Weller found ways of wearing the suit rather than letting the suit wear him, and, despite being hidden behind a metal mask for most of the action and speaking in pre-programmed sentences, had the audience rooting for RoboCop's eventual triumph.
Thanks to Weller's subtle definition of the character (and his sensual lips), the range of snappy one-liners traded among the fine supporting cast ("I'll buy that for a dollar!" "I remember you! You're dead. We killed you!" "15 seconds to comply") and the quintessentially 80s score and sound design, RoboCop has been much referenced and parodied in other media, including music and video games.  A smart, funny, self-aware genre movie, it has inspired much affection from fans since its release.
Given the continued recognition of the brand, a remake was inevitable.  Sony/MGM, along with all the other major studios, have concluded that it is easier to market a property with existing awareness than it is to launch a new one.  People tend to know what a RoboCop is — which is more than can be said for a divergent, for instance. So they've tossed an estimated budget of $100M into the pot, hired some reliable, if not huge marquee name actors (Gary Oldman, Abbie Cornish, Jackie Earle Haley, Michael Keaton, and the ubiquitous Samuel L. Jackson), updated the RoboSuit with some slick Iron Man styling,  and, in making it look like every other comicbook movie out there, are hoping for a reasonable return on their investment.  Which is missing the point about what made the original so much fun, and so memorable.  But they own the property, and, despite what disgruntled fans might be bewailing across the internets, that's that.
"Well, he signed the release form. And legally, he's dead. I figure we can do anything with him we want."
There is hope, however.  A RoboCop remake is not automatically a terrible idea. If it was done with Verhoven verve, irreverence, and affection for the source material, then it might just be worth revisiting — which is what a group of more than 50 Los Angeles and New York film-makers have done, splitting the original screenplay into 60 separate scenes and remaking each one in a different style as a crowd-sourced project.
The resulting movie is an anarchic mash-up of live action, animation (computer, hand-drawn and stop motion), modern dance, and a montage of penises being blown apart that will stay with you for the rest of your sentient days.  Warmth towards the original, flaws and all, glows from every frame; this is definitely one for the fans. Original story weaknesses (such as RoboCop's dependence on a nutritional paste that tastes "like baby food", or his ambiguity towards his wife) are picked up as running gags throughout.
While the quality isn't altogether consistent, some of the input is surprisingly sophisticated, and, if one film-maker's approach leaves you cold, you're only ever a couple of minutes away from the delights of the next segment.  A labor of love (available to watch for free to watch or download on Vimeo until the studio figure out their cease-and-desist strategy),  Our RoboCop Remake functions simultaneously as tribute and critique — testament to the power of film-making tools put into democratic hands.
Our RoboCop Remake is fresher, funnier and more outrageous than any studio blockbuster could dare to be. Here's hoping it points to a future when remakes are an embarrassing anomaly of the past, and, rather than spending millions of dollars on persuading us to pay again for something we've seen before, studios take risks on new talent and original stories. Like they used to.
Jan 10, 2014 Movies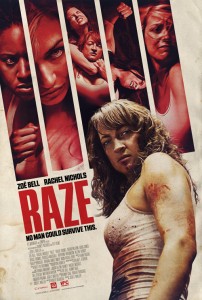 Director:  Josh C. Waller
Stars: Zoë Bell, Rachel Nichols, Tracie Thoms, Sherilyn Fenn
A true midnight movie, Raze harks back to a simpler time – ancient Rome – when watching enslaved competitors batter each other to death constituted the alpha and omega of a delightful evening's entertainment.  This 21st century spin on the gladiator contest is an obvious cash-in on the current wave of enthusiasm for all things Hunger Games, as well as offering a tribute to femme-on-femme exploitation movies of the 1960s-70s, as its most noteworthy attribute is the committed all-female fighting cast.  Front and center is Zoe Bell, Tarantino's favorite stuntwoman, proving that she can bring some of the emotional depths of a character to the surface, as well as kick, punch and ricochet in dazzling style off the walls.
The story – like the production values – is sparse. Sabrina (Bell) leads a pack of caged women who have been kidnapped off the streets and forced into an underground Last Woman Standing Tournament.  Imprisoned in a bunker, they're out of viable options: they can fight and win, or watch their loved ones suffer torture and die via closed-circuit TV. Two by two the women exit their cells and take an elevator to the 'arena', a claustrophobic pit with dirty brick walls. Only the victor returns.
For most of the women, it's a miserable experience.  During their brief time in the cells they've formed fragile bonds with their fellow prisoners, so when the time comes to match with an opponent they find themselves toe-to-toe with a friend.  The shadowy ringmasters, Elizabeth (Sherilyn Fenn) and Joseph (Doug Jones) will accept nothing less than a fight to the death, however.  No matter how reluctant (or, in one case, unhinged) the fighters, it has to end in bloodshed.
Only arrogant sociopath Phoebe (Rebecca Marshall), appears to relish the hand-to-hand combat and take pleasure in her victories. For the others, each successive bout brings more pain and misery, reducing each woman to a vicious, primal blur of fists and feet.   Sabrina is marked as a potential winner from the get-go by the unnamed organizers of the contest, a tradition that apparently goes back centuries.  Yet, try as she might, she's not smart or strong enough to subvert the process, and has to play by the rules to the bitter end.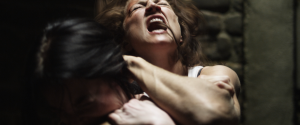 Other than a standout performance by Bell (who is also a producer) that's it, really.  The minimal script by Robert Beaucage delivers little in the way of twists or redemption, despite a few intriguing hints about the wealthy punters who demand this brutal form of entertainment once every five years.  The narrative is all about the fights, and the creative ways the combatants (who include Tracie Thoms, Rachel Nichols and, briefly, Rosario Dawson) find to slaughter one another with their bare fists.  On that level, Raze certainly delivers, with a steady stream of eye gouging, skull bashing, death kicks and five star punches to dispatch one character after another.  But the grim violence leads nowhere and says nothing, and ultimately leaves the viewer numb.  Commendable though the idea of an all-female fight movie might be, Raze needs to offer more to entertain anyone but the most die-hard fight fans, of either gender.
On limited release in LA and NYC January 10, 2014,  also available on VOD, iTunes and all major digital outlets on January 10, 2014
Nov 10, 2013 Movies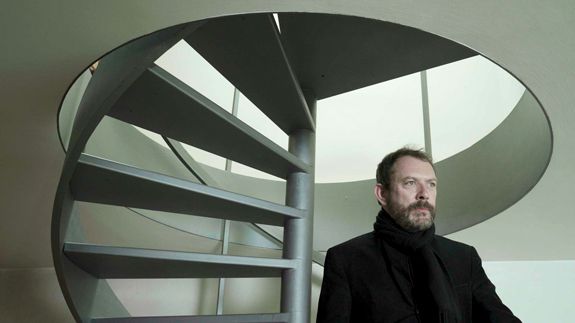 Writer/Director:  Joanna Hogg
Stars: Viv Albertine, Liam Gillick, Tom Hiddleston
Joanna Hogg's third film deals in gracious architectural spaces and the upper middle class creatures who fill them.  Elegant, mannered, a study in static frames and noises off, Exhibition jettisons plot in favor of vignette, presenting a series of scenes from a marriage that's neither ideal nor enviable, but, by the end of the movie, has come to make a kind of twisted sense.
Artist D (Viv Albertine) and architect H (Liam Gillick) spend their days creating at their respective desks, occupying separate floors of their London townhouse.  They communicate in a rather stilted manner via intercom, implying their relationship has become stiff through overuse.  The third party in this marriage is not a child, or a lover, but the house itself, which appears to have grown between them like a tree root, forcing them apart over time.
D certainly seems to have a more intimate relationship with the house than she does with H.  She drapes herself around its curves, on a windowsill, a corner wall, a rock in the garden.  She seeks approbation and satisfaction in its reflective surfaces.  She dons fancy knickers and performs crude burlesque in one of its empty rooms.  The house gives her what H will not: tranquil approval of everything she does and is.  So she orients herself towards it, usually presenting us (and H) with the back of her head, or the shrug of her shoulders.  Only the house is permitted to gaze upon her face.
D and H have decided to sell the house, after 18 years of co-habitation, so D's interactions with the furniture and windows have a nostalgic quality from the get-go.  She must indulge her guilty pleasures while she still can.  Consequently, she pushes H, so much less arch and fascinating than the house, away.  He attempts to maintain their connection, but the house has intruded on his side of the relationship too.  He sees D more clearly in reflections than he does in reality, and can only say "I love you" via the intercom, when he's insulated from her reaction by the wood paneled walls.  Is he reaching out to D, or the echo of who she once was to him?
A brief moment of passion fizzles as D flops on the bed like the proverbial dead fish, unable to ignite even the energy it would take to wriggle out of her clothes.  When he asks, "Can't I play first?" she denies him via complete inertia, wanting him to stick it in and be done.  H flails above her, frustrated, completely unable to penetrate the barriers she has erected around her secret self, the one she shares only when alone with the house – with whom, of course, as we've already seen, she is only too happy to play.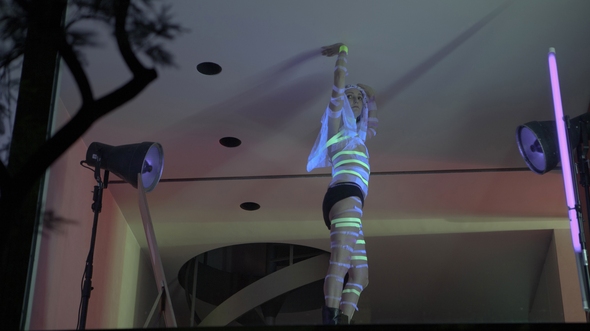 D and H discuss the previous occupants, the architects who designed and built this suave structure, and lived there into their 80s, when the spiral staircase became too much to navigate.  They ponder the possibility of the house absorbing this couple's lifelong love into its edifice, and, by implication their own. Although they've decided to move on, they feel it's important to preserve the house as it is, a monument to love and regret. They ask the realtor (Hogg's muse, Tom Hiddleston) if they can insert a "No Demolition" clause into their terms of sale.  He smirks denial at them.  Once they quit possession, that's it.
Hogg's eye for negative space is fully utilized here, both in terms of the stylized photography and in the force that drives the narrative.  Exhibition's truths are more easily located in cavities rather than content – often in a punning manner, as when H gets into a fight with a builder who has impinged upon his parking space, or when another contractor discusses the width of the gap between the elevator car and the shaft.  D and H have identified themselves with a restrictive structure for too long.  It's only on occasions when they break free, out onto the streets of London, that they are able to access emotional honesty, as when D, alarmed by the wailing of emergency sirens, runs outside in her underwear to check that no accident has befallen H, showing more concern for his well-being in that moment than in any of the scenes inside the house thus far.
The house in Exhibition is not just an enviable address but an all-encompassing lifestyle. As young artists, D and H required a frame, and they found one they thought was perfect within the clean modern lines of the house.  But, over the 18 years they've lived there, the frame has become a constraint.  The house contains and confines them in ways that go beyond walls.  For the sake of their love, their careers, their sanity, they must move on.  By the time they're slicing into a replica house cake at a party to celebrate the sale, symbolically destroying their des res, it's hard not be glad they're making their escape to a more creative and fulfilling future.
Held together by two mesmerizing central performances from Albertine (former Slits guitarist) and conceptual artist Gillick, Exhibition is an inventive study of the way structure affects content.  We are where we sleep.  Outwardly precise and mannered, inwardly quite chilling, there are also some darker lessons in here about covetousness, about contemporary obsessions with property values, and a warning that if you gaze long enough into architectural interstices, they will gaze also into you.
Exhibition will screen as part of AFI Fest 2013 on Monday, November 11 @ 7:30 p.m., at Chinese 3 and on Wednesday, November 13 @ 4:15 p.m., at Chinese 2
Nov 8, 2013 Movies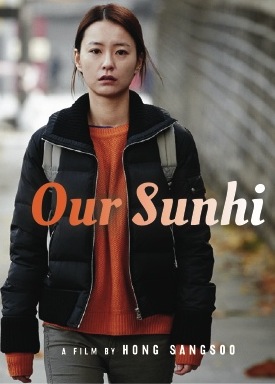 Writer/Director:  Hong Sang-soo
Stars: Jeong Jae-yeong , Jeong Yu-mi , Kim Sang-Joong
Our Sunhi won the Silver Leopard award for its director, Hong Sang-soo, at the 66th Locarno International Film Festival. It's a refined chamber piece, shot digitally, and focused on static dialogue scenes that play out in a single take – it's about as far from a commercial Hollywood movie as it's possible to get.  Nonetheless, it's an absorbing narrative, following a young film student and three men who all believe they know her better than she does herself, and therefore have some kind of claim over her affections.
In Hong's world, characters cross paths, communicate, depart, and move on to the next coffee or beer klatch without once making the connections they think they have.  Alcohol lubricates and befuddles these encounters (empty bottles pile up in the background of almost every scene, part extenuating circumstance, part leitmotif).  The men look back fondly on their conversations with Sunhi, and discuss her behind her back as though she was a Manic Pixie Dream Girl, a captivating yet eccentric female who exists purely to salve their ills.  Yet Sunhi is more than that, a troubled individual seeking her own path, yearning to express sexual desire, and frustrated by the men's insistence on shaping her persona to suit their needs.  Tellingly, she disappears long before the movie's end, amidst the riotous autumnal hues of Seoul's Changgyeonggung Palace.  The men fail to notice her absence, although she continues to be the focal point of their discussion.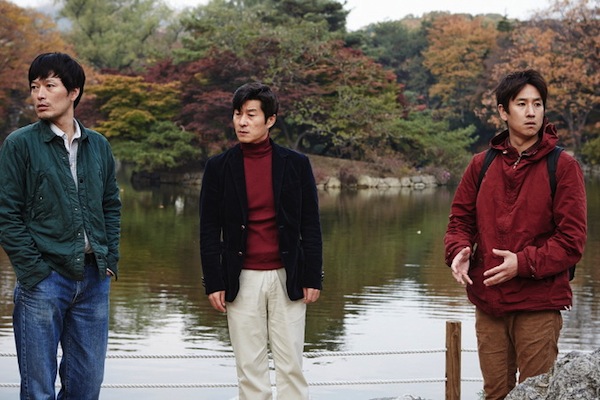 Sunhi (Jeong Yu-mi) herself is emblematic of Generation Y clichés, twisted by indecision and ennui, incapable of solid achievement but convinced of her innate talent and superiority.  After a mysterious absence, she returns to her film school to ask for a letter of recommendation from her former professor,  Choi (Kim Sang-Joong).  She believes studying in the USA will somehow ignite her previously dormant passion for filmmaking.  He scoffs at the idea, and tells her she should embrace creativity and make films now, "while there's still time". He agrees to write a letter, but cautions that it will be 'honest'.
From the first, then, Sunhi is subject to the whims of men who want to tell her what to do.  Stung by the encounter with Choi, she seeks solace in beer, and runs into her ex, Munsu (Lee Sun-kyun).  He, apparently, has had some success with a movie he made about the failure of their relationship, and she feels betrayed.  Munsu, nonetheless, is still in love with her, and waxes lyrical about the reunion to his friend, another movie director, Jaehak (Jeong Jae-yeong).  Choi is also friends with Jaehak, and also inclined to praise Sunhi's feminine mystique – she has been flirting with him in order to persuade him to change the somewhat harsh terms of his reference letter.  When Jaehak finally meets Sunhi, he too falls for her charms – who wouldn't, having heard such glowing recommendations?
Tonally, Our Sunhi combines elements of classic farce (eventually, all Sunhi's suitors collide) with some wry observations on human nature and some poignant emotional punches, such as when Sunhi tenderly caresses Jaehak's face in a bar, only to have the moment destroyed by a food delivery.  The long takes demand powerhouse performances, and Hong gets gold from some of his regular collaborators, especially Jeong Yu-Mi.  She's more than able to anchor us in Sunhi's perspective of the ridiculousness going on around her, twitching melodrama into comedy with a simple furrow of her brow.
Our Sunhi's gentle pace and quietly building absurdity may not be to everyone's taste.  It's the kind of film that rewards those who stick with it, beginning in banality but ending in powerful insights and a decidedly comic final payoff.  Fans of Hong's other work – he's a prolific director with more than a dozen credits – will, as always, enjoy the wry observational nature of this piece, which may also provide an engaging entry point for neophytes.
Our Sunhi will screen as part of AFI Fest 2013 on Saturday, November 9 @ 6:30 p.m. in Chinese 3 and on Tuesday, November 12 @ 7:45 p.m. in Chinese 5.