Director: Lukas Moodysson
Writers: Lukas Moodysson, Coco Moodysson (comic book)
Stars: Mira Barkhammar, Mira Grosin, Liv LeMoyne
It is a truth universally acknowledged that being a grown up sucks – especially when compared to the adolescent joie de vivre and sheer silliness depicted in We Are The Best. Lukas Moodysson's accomplished take on his wife Coco's comic book, Never Goodnight, is bittersweet, hilarious, and life affirming by turns.
Set in Stockholm, 1982, We Are The Best follows the misadventures of Bobo (Mira Barkhammar) and Klara (Mira Grosin), 13-year-old BFFs, as they attempt to recreate the spirit of 1976 in their local youth club music room. They embark on a classic rock 'n' roll hero's journey, from learning to play, past the obstacles thrown up by allies, including their third musketeer, Hedvig (Liv LeMoyne), and enemies, through heartbreak and major artistic differences before ending in a triumphant performance in front of the biggest crowd they've ever seen. The only crowd, in fact.
We Are The Best hits many resonant notes. Bobo and Klara are outsiders from the get-go, painfully aware of the differences between them and their pink-clad bubble blonde classmates. Like so much in the history of popular music, it's all about the hair. Klara owns her difference, sporting a perky Mohawk as an outward signifier of her self-proclaimed rebel status. Bobo is less committed. Her coarse crop (as her mother points out to party guests in the opening scene) is self-inflicted, and, like so many experiments carried out at that age, regretted. Bobo angsts about whether or not her short hair makes her look ugly, and visibly winces when teased about her lack of beauty by some passing older boys. Klara flings insults in response, and attacks the bullies where it hurts – via the schedule for the practice room.
This is Sweden, so even a youth club is run on principles of absolute fairness. If a band wants to practice, they need to fill in the booking sheet, a protocol conveniently forgotten by the bullies, known collectively as drudge rockers Iron Fist. Kenneth and Roger, the mild-mannered youth workers in charge of proceedings, have to admit that if Klara has penciled her name on the form, she's entitled to the slot. So Klara and Bobo find themselves in temporary possession of a bass guitar and a drum kit. Neither of them have any clue what they want to do with the opportunity other than make noise and annoy people. They're the spirit of punk incarnate.
And so a legend is born. While suffering the indignities of a PE class, Klara comes up with a song called "Hate The Sport". Aware that their complete lack of musicianship can only get them so far, they recruit fellow outsider, Christian music nerd Hedvig. Bobo and Klara start out in awe of Hedvig's classical guitar skills, but soon they embrace her entirety. The duo becomes a trio and, naturally, Klara gives the newcomer an appropriately shocking haircut to demonstrate her fealty (and cut off her exit point) to the gang.
Like many other rock 'n' roll stories, We Are The Best is at heart a coming-of-age story; music provides a reliable and raucous vehicle for self-discovery. The narrative comes mainly from introspective, doubt-ridden Bobo's point of view: the band is her bridge between childhood and adolescence, between watching and doing. Once she picks up the drumsticks, nothing will ever be the same. Her adventures in punk rock stretch her always-tempestuous relationship with Klara to breaking point, propel her towards her first kiss (and first romantic betrayal), and push her from the shy sidelines to the central spotlight.
Barkhammer, Grosin and LeMoyne are never short of adorable. Moodysson coaxes honest and enthusiastic performances from his young cast, who commit to every scene con gusto. Barkhammer and Grosin play thoughtful Bobo and brash Klara as a study in contrast, yet they're also able to capture the switch that occurs when Bobo asserts herself in pursuit of (what else?) a boy, and Klara, uncharacteristically, reveals her hurt.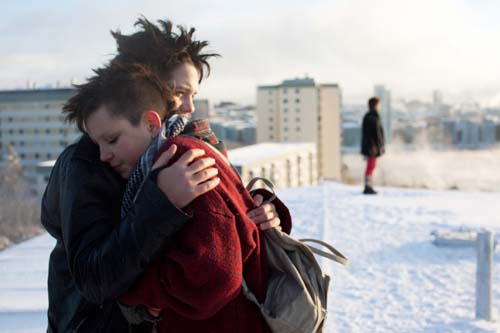 As might be expected from Moodysson (Lilya 4 Ever, Mammoth), there are darker tones in here: Bobo's relationship with her unhappy, lonely mother and absentee father leaves a lot to be desired and will only get worse. Klara's rule-breaking nature is all too likely to get her into trouble in the wider world once she loses her cherubic cuteness. Hedvig is too willing to follow Klara, swapping her strict Christian upbringing for a cult of a different sort. All three girls – as they beg for change from subway riders, or veer too close to the edge of a snow-covered roof – take risks, gladly putting themselves in harm's way, unaware that the magic circle of childhood might not protect them for much longer. The general air of exuberance is undercut with fragility. The girls behave – as all adolescents do – as if they are invincible. The older, sadder, wiser audience knows they are not.
We Are The Best is unashamedly nostalgic, for punk activism of the early 80s, for the verve of early adolescence, for the binary simplicity of Cold War politics (as voiced in Sabotage's Brezjnev Reagan Fuck Off) for a time when identity came purely from affiliations and actions, rather than hazy affirmations posted on social media. If not quite invincible, Bobo, Klara and Hedvig are certainly irrepressible. No one, not Iron Fist, not the two-timing Elis, not Kenneth and Roger, can keep them down. They are very definitely The Best.