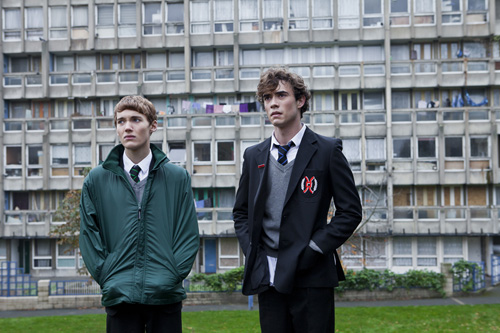 Director: Andrew Douglas
Writer: Mike Walden
Starring: Jamie Blackley, Toby Regbo, Joanne Froggat
2003 seems so quaint to us now.  Before YouTube, before Facebook, before Vine, before Instagram, before Snapchat, internet communication meant instant messaging: text, no pictures.  It was mindblowing.  It was possible to strike up a conversation with a stranger anywhere in the world, via a chatroom, or a random connection ('Who's Online Now?') and build potent, ongoing friendships, without ever seeing anything but a low-res avatar to indicate what the other party might look like.  Now, wary of catfishing, we demand selfies and corroborating social media accounts, but back then, the person on the other side of your screen could be virtually anyone – anyone you, or they, wanted to be.
Based on a true story, Uwantme2killhim? takes us back to those heady days, charting the fervent late-night friendship between sixteen year-old Mark (Jamie Blackley) and his instant message pal, Rachel (Jaime Winstone).   Outwardly, soccer-playing, good-looking Mark seems like one of high school's winners, the type of boy who would find it easy to form strong friendships IRL, but the intensity of his bedroom chats with Rachel reveals his deep-seated insecurities.  For Mark – as for the majority of suburban teenagers – modern life is rubbish, and he grasps at anything that will make his day-to-day existence seem the slightest bit special.
Consequently, he is all too eager to believe every word Rachel types, about her feelings for him, her fears for her safety (she's in a witness protection programme, which is why they can't meet in person), and her desire that he should befriend her little brother, who is in his class at school.  Mark basks in the glow of her pretty girl hero-worship.  She reflects back a version of himself he'd like to believe is real; lover, protector, problem-solver.  Despite the fact that her brother, John (Toby Regbo) is a friendless loser, Mark takes on Rachel's assignment with gusto, stepping between John and some bullies, and hanging out with him after school.
The lop-sided friendship that develops between the two boys is delicately depicted by Blackley and Regbo, who have considerable on-screen chemistry.  John starts out as the lonely, needy one, and Mark as the guy doing a favor, but there's soon a genuine connection. Despite the social gulf dividing them, they have fun in one another's company, enjoying exploring their differences as well as the regular teenage boy stuff like riding bikes and spending a day at the seaside.
Happiness, as always, is fleeting. All is not well with Rachel.  She disappears, and various other interested parties pop up in her place, all wanting Mark's help to find her.  These people – ranging from Rachel's best friend to top brass in law enforcement – continue  to bolster Mark's belief in his importance and abilities until he's long past the point of no return. He's embroiled in an online world that has become alarmingly ridiculous, where, ultimately, a teenage boy might believe he has been recruited as an assassin by MI5.
Shot against the dull colors of East London and Essex suburbia, Uwantme2killhim? taps into a tradition of English ennui that goes back to George Orwell and post-war austerity.  Mark seems to be a child of opportunity, from a solid lower-middle-class home, engaged in education, but his horizons are limited by circumstance.  He's not quite clever enough to break the pattern set by his miserable, growling father (Mark Womack), who would rather put more time in at the gym chasing a fading ideal of physical perfection than have a meaningful conversation with his son.  Mark might dream of a career in international espionage, but, really, that's only an option for posh kids at Cambridge.  It's gradually dawning on him, as the end of his school days approaches, that he's all set for some dreary middle-management position in a local bank or warehouse – if he's lucky.   While his total belief in Rachel's tale of woe may seem naïve to a post-Catfish generation, it's understandable that he seeks escape through the only portal available to him, his PC screen.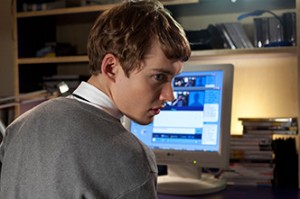 Producer Bryan Singer was drawn to the Vanity Fair story by Judy Bachrach about the case, published in February 2005.  "I found the story utterly compelling," says Singer. "There were two things that really struck me. First, it was such a unique story; I'd never heard of anything like this. Second, it was set in 2003 during what was the Wild West of social networking, when Facebook was just being invented, and young people were the social pioneers of the Internet, finding a new way of meeting and relating with each other based on the exchange of words rather than meeting at school or at parties. It's interesting how, for young people in particular, these kinds of relationships often tended to be deeper, probably because they are based on the written word and they can reveal much more intimate information about oneself. This was a story that illustrated the depths of these kinds of cyber relationships."
Once optioned, he offered the project to British-born director Andrew Douglas, who had also been compelled by Bachrach's piece. ""The story really touched me," says Douglas. "I saw the pain of adolescence in this tale of these two boys. It's a story of fathers and sons, of loneliness and friendship, of yearning for something more than you've got. That's an age-old drama but here, the place the story occupies is very new. The teenage impulse to want something bigger and better is the same for all generations but where once you would get that yearning in travel or drugs or sex, now, in the 21st century, it's available in another place – the Internet. And tackling that on film is very new. It's a place that has a lot of similarities to the dark woods of the fairy tale, that murky world which hides thrills and danger and which parents are at a loss to understand."
Uwantmetokillhim? is an intriguing little thriller, which manages to capture the delusional bubble of teenage existence very effectively.  Outside the central bubble the story is somewhat on the thin side, with DI Sarah Clayton  (Downton Abbey's Joanne Froggat) struggling to put together the investigative pieces for an audience who will be way ahead of her on the curve.  However, if you're looking for some thoughtful commentary on modern masculinity and how we shape our sense of self according to the way others see us, and two fine lead performances from ones-to-watch Blackley (soon to be seen in If I Stay, Kids In Love, We Are The Freaks) and Regbo (currently appearing in the CW's Reign), then go ahead and click 'Yes'.
Select theatrical release begins today
Available on VOD, iTunes, and other on demand platforms