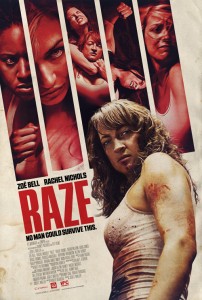 Director:  Josh C. Waller
Stars: Zoë Bell, Rachel Nichols, Tracie Thoms, Sherilyn Fenn
A true midnight movie, Raze harks back to a simpler time – ancient Rome – when watching enslaved competitors batter each other to death constituted the alpha and omega of a delightful evening's entertainment.  This 21st century spin on the gladiator contest is an obvious cash-in on the current wave of enthusiasm for all things Hunger Games, as well as offering a tribute to femme-on-femme exploitation movies of the 1960s-70s, as its most noteworthy attribute is the committed all-female fighting cast.  Front and center is Zoe Bell, Tarantino's favorite stuntwoman, proving that she can bring some of the emotional depths of a character to the surface, as well as kick, punch and ricochet in dazzling style off the walls.
The story – like the production values – is sparse. Sabrina (Bell) leads a pack of caged women who have been kidnapped off the streets and forced into an underground Last Woman Standing Tournament.  Imprisoned in a bunker, they're out of viable options: they can fight and win, or watch their loved ones suffer torture and die via closed-circuit TV. Two by two the women exit their cells and take an elevator to the 'arena', a claustrophobic pit with dirty brick walls. Only the victor returns.
For most of the women, it's a miserable experience.  During their brief time in the cells they've formed fragile bonds with their fellow prisoners, so when the time comes to match with an opponent they find themselves toe-to-toe with a friend.  The shadowy ringmasters, Elizabeth (Sherilyn Fenn) and Joseph (Doug Jones) will accept nothing less than a fight to the death, however.  No matter how reluctant (or, in one case, unhinged) the fighters, it has to end in bloodshed.
Only arrogant sociopath Phoebe (Rebecca Marshall), appears to relish the hand-to-hand combat and take pleasure in her victories. For the others, each successive bout brings more pain and misery, reducing each woman to a vicious, primal blur of fists and feet.   Sabrina is marked as a potential winner from the get-go by the unnamed organizers of the contest, a tradition that apparently goes back centuries.  Yet, try as she might, she's not smart or strong enough to subvert the process, and has to play by the rules to the bitter end.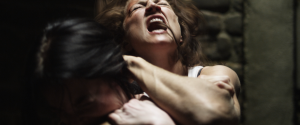 Other than a standout performance by Bell (who is also a producer) that's it, really.  The minimal script by Robert Beaucage delivers little in the way of twists or redemption, despite a few intriguing hints about the wealthy punters who demand this brutal form of entertainment once every five years.  The narrative is all about the fights, and the creative ways the combatants (who include Tracie Thoms, Rachel Nichols and, briefly, Rosario Dawson) find to slaughter one another with their bare fists.  On that level, Raze certainly delivers, with a steady stream of eye gouging, skull bashing, death kicks and five star punches to dispatch one character after another.  But the grim violence leads nowhere and says nothing, and ultimately leaves the viewer numb.  Commendable though the idea of an all-female fight movie might be, Raze needs to offer more to entertain anyone but the most die-hard fight fans, of either gender.
On limited release in LA and NYC January 10, 2014,  also available on VOD, iTunes and all major digital outlets on January 10, 2014