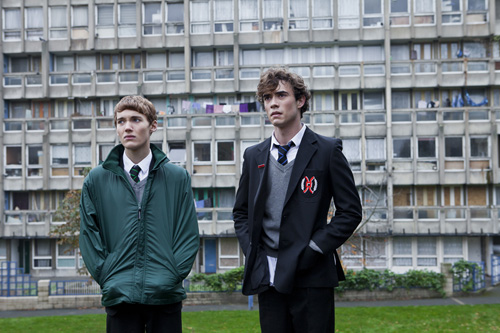 Director: Andrew Douglas
Writer: Mike Walden
Starring: Jamie Blackley, Toby Regbo, Joanne Froggat
2003 seems so quaint to us now.  Before YouTube, before Facebook, before Vine, before Instagram, before Snapchat, internet communication meant instant messaging: text, no pictures.  It was mindblowing.  It was possible to strike up a conversation with a stranger anywhere in the world, via a chatroom, or a random connection ('Who's Online Now?') and build potent, ongoing friendships, without ever seeing anything but a low-res avatar to indicate what the other party might look like.  Now, wary of catfishing, we demand selfies and corroborating social media accounts, but back then, the person on the other side of your screen could be virtually anyone – anyone you, or they, wanted to be.
Based on a true story, Uwantme2killhim? takes us back to those heady days, charting the fervent late-night friendship between sixteen year-old Mark (Jamie Blackley) and his instant message pal, Rachel (Jaime Winstone).   Outwardly, soccer-playing, good-looking Mark seems like one of high school's winners, the type of boy who would find it easy to form strong friendships IRL, but the intensity of his bedroom chats with Rachel reveals his deep-seated insecurities.  For Mark – as for the majority of suburban teenagers – modern life is rubbish, and he grasps at anything that will make his day-to-day existence seem the slightest bit special. Continue reading →