Archive for the 'Moral Panics' Category
Jul 20, 2012 Media Effects, Moral Panics, Movie Industry, Movies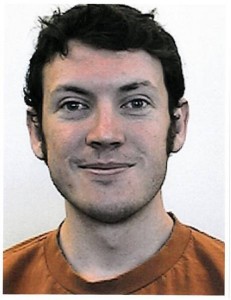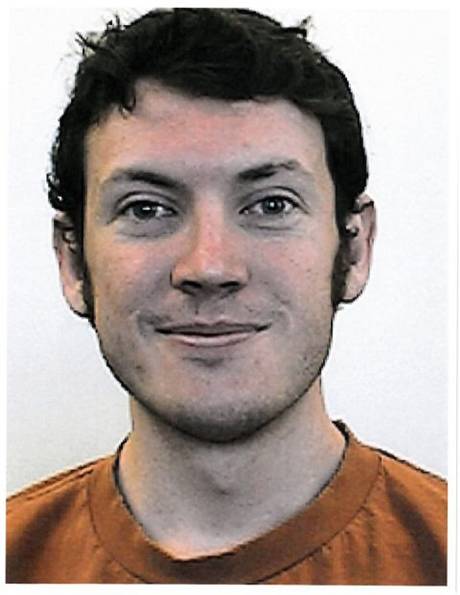 As the world's media try to make sense of last night's massacre at a movie theatre in Aurora, Colorado, the moral panic begins.
This is a tragedy that has no single cause. Wherever the finger of blame is pointed, the fact remains that 12 innocent people died a shocking death, 50 more were injured, and countless family members and friends will suffer pain and loss. Unfortunately, there was probably no easy way of preventing these murders. Senseless acts of violence are by their very nature unpredictable, without rhyme or reason. We've yet to know what caused suspect James Holmes to plan and carry out his attack or if he had a specific target in mind. All we know is that he decided to kill, and with his choice of venue and time, decided to do it in a theatrical, ostentatious way that would link him forever to all the glamour and hype surrounding the release of 2012's summer box office behemoth, The Dark Knight Rises.
Somehow, Holmes wanted his act of violence to blur and mesh with the violent entertainment on screen, hence his choice of a Bane-esque costume and weapons, and the fight scene within the movie that triggered the launch of his first gas canister. He destroyed the fourth wall, the barrier that's meant to separate spectator from spectacle, to divide fiction from action. This is a truly disturbing act by an individual. It's also disturbing on a societal level. It has legal, cultural and moral ramifications that will induce much hand-wringing in the press, social media, and water cooler discourse over the next few weeks. It raises a lot of serious questions that no one will be able to answer about how, as a civilization, violence is our first resort, for thrills, for problem-solving, for driving political agendas.
Occurrence and Signification
The first stage of the moral panic is already well under way. The Dark Knight Rises was already a huge news story, the most-anticipated movie release of 2012. It had been generating the usual hype-related headlines, about budgets, stars, special effects, midnight screenings selling out with lines around the block in some of the worst summer weather North American has ever experienced, effectively a re-run of The Avengers and Hunger Games copy from earlier this year. However, over last weekend, a new kind of story emerged. Things got ugly in the comments section of negative reviews of TDKR. Abuse was hurled at critics who expressed their personal opinion that there were flaws in the movie. Rotten Tomatoes editor, Matt Atchity, took the unusual step of disabling comments to prevent any more rabid fanboy mouth-frothing but the #hate tag had already been attached to the TDKR meta-narrative. The violence of the comments suggested there was an element of hooliganism within the passionate fans who would show up for the midnight screenings – a tiny minority of the tens of thousands who bought tickets, but a significant element nonetheless.
Enter Holmes, who probably hadn't seen the whole movie before masterminding his attack and cannot be accused of 'copy-cat violence' of the type that, for instance, followed in the wake of Natural Born Killers. He does, however, appear to have absorbed crucial information from the movie trailer (deconstructed admirably by Elliott Prasse-Freeman and Sayres Rudy here) about a single gas-masked man threatening a large-scale entertainment event as an expression of class war. The Dark Knight trilogy as a whole has celebrated a lone, caped crusader, whose main superpower is his ability to confront the criminals he pursues in a lawless space, outside the usual moral constraints. Holmes' violent actions dovetailed all too neatly with TDKR's aesthetic. It remains to be seen how much he believes he chimed with the movie characters' (Bruce Wayne or Bane) personal morality.
Wider social implications (fanning the flames)
By choosing a movie theatre in Aurora, CO, Holmes was inserting himself in not just a current news narrative (TDKR) but a long-running one. Aurora is just under 16 miles away from Columbine, the site of another tragic, senseless shooting in April 1999. The wounds caused by Klebold and Harris's rampage have never healed. While the two events are materially unconnected, their proximity has meant frequent links between the two in this morning's news reporting. And there are many column inches yet to be filled. Did we learn nothing from Columbine? How could it happen again, so close by? Do Colorado's lax gun laws make it a hot-spot for mass shootings? Is the economic health of this region a factor? Are local mental health provisions a failure?
Social Control
We've long been encouraged to consider public and semi-public spaces (schools, airports, railway stations, government offices) as potential war zones in which carrying a firearm is an act of terrorism. Although we grumble about increased surveillance and security measures, we accept them as a necessary part of doing daily business in 2012. However, the erosion of freedom and anonymity is a one-way street. George Carlin was as prescient as ever in his 1999 stand-up movie, You Are All Diseased:
..if we made airplanes completely safe, the terrorists would simply start bombing other places that are crowded. Porn shops, crack houses, titty bars, and gangbangs. You know, entertainment venues.
Inevitably, last night's events will make it likely cinema multiplexes will be added to the long list of places where passing through a metal detector is a condition of entry. 'Additional security' is already being provided at theaters screening TDKR. "We're concerned that someone, perhaps seeking notoriety, will attempt to do something similar," said NYPD head Ray Kelly.
However, the wider discussion about gun control, how an individual like Holm could get hold of such deadly weaponry and ammunition, continues to be a political hot potato, with those calling for more restrictions shouted down by gun enthusiasts citing their Second Amendment right to bear arms. In an election year, neither presidential candidate wants to alienate voters by threatening their constitutional freedoms. They avoid addressing the question that one individual's legally enshrined right to purchase an automatic weapon threatens the freedom of hundreds of others to enjoy a movie in peace and safety. A society where people live in constant fear of attack by a lone, insane gunman is hardly a democracy.
The other social control that will be discussed, but not implemented, is mental health care. Like so many lone gunmen before him, Holmes has already been identified as a quiet drop-out whose last regular links with society (i.e. university attendance) were recently severed. His actions yesterday evening, dressing and arming himself, leaving a booby-trapped apartment, and driving to the multiplex with murder on his mind, speak to a severe mental illness. Although he clearly made plans, they didn't include eluding capture. He must have been so disconnected from the people around him that no one noticed his state of mind, and he felt there was no one he could approach for help, or to warn them that he was feeling the urge to act on some dangerous impulses. Modern city living isn't geared to awareness of those around us. Even if you are aware that something is "off" with a neighbor, there's nowhere to go for help. Many, many people fall through the cracks on a daily basis, and no one notices or cares unless their mental breakdown manifests in tragedy. PhD student Holmes certainly engineered his breakdown so that it would have maximum media impact, reminding us all that in the great chain of society we are collectively only as strong and as safe as our weakest links.
Aug 20, 2011 masculinity, Media Effects, Moral Panics, Music, representation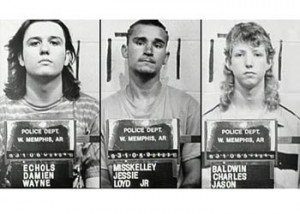 After 18 years in jail, Damien Echols, Jason Baldwin and Jessie Misskelley have been released. While they were forced to submit guilty pleas, and accept a sentence of time already served, they are no longer moldering in prison (with Echols on Death Row) for a crime it has become clear (thanks to DNA evidence) they did not commit. They owe their freedom in no small part to documentary makers Joe Berlinger and Bruce Sinofsky, whose trio of Paradise Lost films argued long and hard for the boys' innocence, and attracted moral and financial support for their cause from the likes of Eddie Vedder, Johnny Depp and Natalie Maines.
The film-makers' persistent questions (their first film came out in 1996) about the validity of the trial, the lack of physical evidence, and the insistence that the murders were part of 'satanic cult' activity kept Echols clear of a lethal injection, and also kept media interest in the case alive. Alongside social media efforts (such as Free The West Memphis Three and Facebook pages supporting the trio), the exposure provided by the documentaries meant that this case didn't go away.
The Paradise Lost films are worth examining, not just for the light they shed on one particular miscarriage of justice, but for how they show young men being demonized for their choices in music, clothing, hairstyles and reading matter, and made into scapegoats for society's ills.
'Fear of youth' is well documented (in institutional rules and government edicts), and is known as ephebiphobia. It has been part of our cultures for centuries. Young people (especially young men), thanks to their strength, energy and willingness to try new ideas, are seen as a destabilising force by those who are invested in the old order. As the oldsters are the ones with all the power, they often take brutal pre-emptive and/or retributive action against perceived threats from youth (see: the Lost Boys of the FLDS). Most moral panics revolve around an aspect of youth or street culture, as authorities are persuaded by public outcry to crack down on aberrant behavior primarily from young males.
The discovery of the bodies of three eight year old boys in Robin Hood Hills, West Memphis, in May 1993, led to a moral panic that was to set the ephebiphobic aesthetic of the decade. The horrific murders were immediately attributed to a 'satanic cult' believed to be operating in the area, and the name of a local teenager, Damien Echols, was mentioned as a possible perpetrator.
Damien attracted suspicion, not because he had a track record of violent criminal behavior (although local police had been trying to pin all manner of crimes on him) but because he was different. In this staunchly Baptist community he had sought spiritual answers elsewhere, through Buddhism, Catholicism and Wicca. He grew his hair long, listened to Metallica, read Stephen King novels. He had also been treated for depression, and habitually wore black, including a long black coat. The local community believed that these circumstances made the unhappy and isolated young man 'sinister', and so the witch hunt began.
Instead of reviewing evidence dispassionately (which might have led them to one of the stepfathers of the murdered boys), the local police decided that Damien was to blame, and set about gathering gossip and hearsay that, in their eyes, could prove their case in a court of law. When solid proof of Damien's guilt was not forthcoming, they hauled in "witnesses" who, tempted by the $30,000 reward money on offer, were happy to make up any amount of lies about what they had seen and heard. They also corralled Jessie Misskelley, an acquaintance of Damien's. Jessie was mentally disabled, with an IQ of 72, and eventually, after much prodding from police, came up with a confession that implicated himself, Damien, and another boy, Jason Baldwin, in the murders.
Despite the gaping holes in Jessie's confession (which he later recanted), and the lack of any substantial evidence, the local media, police and community were insistent that the boys were guilty, that they were Satanists, and that the victims had been sacrificed as part of some crazed blood ritual. Christianity is a force to be reckoned with in West Memphis, and the locals found it easier to believe that Satan was working among them (via Damien) than to confront uncomfortable questions about child abuse within the victims' families. The crime was firmly pinned on the 'Others', the young, disenfranchised outsiders. The kid who had dared to be different was sentenced to death.
Throwing three innocent kids in jail didn't solve the wider issues. The alienation felt by young American males was still there, and became an increasing part of the cultural zeitgeist, their inarticulate anger explored in movies like The Basketball Diaries, and songs like Pearl Jam's Jeremy.
Did the songs, movies and video games of the era create monsters, or just call them out of the dark?
Luke Woodham, Kip Kinkel, Michael Carneal, Jamie Rouse, Barry Loukaitis, Colt Todd, Andrew Wurst and Evan Ramsey were all aged between 14-16 when they opened fire on parents, teachers and classmates in small towns across America during a period of just over two years (February 1996-May 1998). However, before any of these boys brought a gun to school, or wrote a note, or built a bomb, or posted on an internet bulletin board, society was already afraid of them, thanks to the specters of the West Memphis Three. The school shooters simply bought into the idea that because they were different, they were doomed. Give a dog a bad name, and he might shoot himself.
The media jumped on their perceived common traits, depicting them as a homogenous group of depressive, bedroom-dwelling, video game obsessed, grunge or metalhead, friendless losers – younger brothers to Damien Echols – and, with a national Satanic panic out of the question desperately tried to link these disaffected killers to specific media texts, rather than say, the medication many of them were taking. These boys wore black, especially in the form of long coats, as a way of expressing their otherness amongst the colorful plaid and sweats of their peers. They came to signify a national malaise, an army of Others who could pop up, guns blazing, in any high school corridor near you.
By the end of the decade, thanks to the Internet, and to the murderous actions of Klebold and Harris in Columbine, this tribe of misfits acquired a label: the Trenchcoat Mafia. The stereotyping begun with Damien Echols was set in stone, and outsider equalled killer, to be isolated and ignored, despite the fact that many of the teens who adopted the attitude and uniform of the subculture had never even handled a gun.
It's 2011. Now Echols, Baldwin and Misskelley are free men, perhaps we should look again at the prejudices that falsely convicted them? Is it possible for us to learn from the mistakes of the past? Now, instead of demons in dusters, we have hoodie horrors; the outer layer has changed but the inner bogeyman remains the same. Adolescent males are still being ostracized and criminalized by adult society. They are forced to the fringes, denied status, affection, hope for the future, paraded as straw dogs in movies like Eden Lake, Harry Brown, even The InBetweeners. Should we be surprised when they bite back, as in London and Philadelphia recently? Will we continue to substitute stereotyping for genuine understanding?
The West Memphis Three – Comprehensive case history from TruTV Crime Library
Who Are The Trenchcoat Mafia– BBC archive from April 21st, 1999, which shows how quickly the media jumped on the term.
Jul 12, 2011 Media Careers, Moral Panics, News Values, Newspapers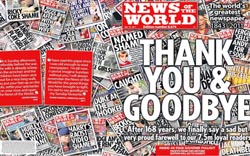 As controversy rages over News International's investigative reporting techniques, the accountability of journalists and editors is being scrutinised across the board. A self-righteous moral panic is in full swing, with calls for a new Press Complaints Commission, and tighter controls for journalists – it's ironic that many of these calls are coming from journalists themselves.
Whilst the corporate culture at News International appears to have condoned some very shady practices, investigative journalism by nature is not about playing by a rule book. Journalists on the trail of a story need to get information that others do not want them to get. If your interviewee answers questions with a polite "No Comment", what are you going to do? Go on to the next story, or keep probing, using any means at your disposal? Most journalists are committed to the latter course of action, which begs the question, where do you draw the line?
It seems the British public draw the line somewhere between hacking Royal phones and deleting the voicemails of a murdered teenage girl. But why is the former any less reprehensible than the latter? In The Independent, Dominic Lawson outlines some previous responses to phone hacking stories:
Thus when the Sunday People bugged the flat in which the Tory Cabinet Minister David Mellor was conducting an affair with Antonia de Sancha, nobody would have listened if Mellor had complained about being bugged, because we were all too busy enjoying his humiliation. The Royal Family, even more than libidinous politicians, were the principal targets of the red-top phone-tappers. Thus in 1992 the public were regaled with the so-called Squidgygate tapes, Diana Princess of Wales's recorded conversations with her friend James Gilbey – apparently the result of the tapping of Diana's landline. Within weeks the same public feasted avidly on the bugged night-time telephone conversation between the Prince of Wales and his mistress Camilla Parker-Bowles; millions rang a telephone line set up by the Sun, to hear the tape played on a continual loop.
Lawson argues that if there were no public appetite for "kiss-and-tell" stories, newspapers wouldn't print them, and journalists wouldn't be under such pressure to obtain salacious details by fair means or foul. However, social comparison is an intrinsic part of our psyche: it's easy to see the appeal of downward comparison (gaining satisfaction from learning about those whose problems are worse than our own), but upward comparison (reading about the lives of the rich, famous and beautiful) can be a bitter pill to swallow. This is where newspaper exclusives come in. Upward comparison becomes downward comparison at the first whiff of scandal ("she may be rich, beautiful and famous but her husband's been boffing the nanny"), which makes people more content with their place in the social order. The masses are less likely to protest at the unequal distribution of wealth, inequitable tax laws, and the hegemonic dominance of certain body types, if they are led to believe that wealth and status always has its dark side (hence those "secret misery of Angelina/Jennifer/Kim/Oprah" stories that grace magazine covers every week). Social comparison, as curated by scandal sheets like the News of The World, helps reinforce social structures. This is why politicians cosy up to journalists and newspaper proprietors; they all want the same thing thing, which is to reinforce the status quo.
Tabloid newspapers have traditionally represented themselves as 'the voice of the people'. In The Guardian, George Monbiot points out that this is simply not the case:
The papers cannot announce that their purpose is to ventriloquise the concerns of multimillionaires; they must present themselves as the voice of the people. The Sun, the Mail and the Express claim to represent the interests of the working man and woman. These interests turn out to be identical to those of the men who own the papers.

So the rightwing papers run endless exposures of benefit cheats, yet say scarcely a word about the corporate tax cheats. They savage the trade unions and excoriate the BBC. They lambast the regulations that restrain corporate power. They school us in the extrinsic values – the worship of power, money, image and fame – which advertisers love but which make this a shallower, more selfish country. Most of them deceive their readers about the causes of climate change. These are not the obsessions of working people. They are the obsessions thrust upon them by the multimillionaires who own these papers.
Monbiot calls for a code of ethics that would make journalists more conscious that they have a role to play outside the circles of power, a kind of Hippocratic oath:
Our primary task is to hold power to account. We will prioritise those stories and issues which expose the interests of power. We will be wary of the relationships we form with the rich and powerful, and ensure that we don't become embedded in their society. We will not curry favour with politicians, businesses or other dominant groups by withholding scrutiny of their affairs, or twisting a story to suit their interests.

"We will stand up to the interests of the businesses we work for, and the advertisers which fund them. We will never take money for promulgating a particular opinion, and we will resist attempts to oblige us to adopt one.

"We will recognise and understand the power we wield and how it originates. We will challenge ourselves and our perception of the world as much as we challenge other people. When we turn out to be wrong, we will say so."
While these are noble sentiments, it remains to be seen whether they can fly in an increasingly fragmented electronic media, driven by a 24/7 need to get hits from readers, rather than selling copies to a loyal readership at the newsstand. Nonetheless, this past week has proved above all else that newspapers still have an important function to fulfill in our society, especially when they move beyond simply reporting stories about the elite, and move towards commenting on and condemning them. Thomas Jefferson famously said "No government ought to be without censors & where the press is free, no one ever will". The New York Times suggests that the News Of The World's demise may have a ripple effect on the rather moribund version of democracy currently active in the UK.
In truth, a kind of British Spring is under way, now that the News Corporation's tidy system of punishment and reward has crumbled. Members of Parliament, no longer fearful of retribution in Mr. Murdoch's tabloids, are speaking their minds and giving voice to the anger of their constituents. Meanwhile, social media has roamed wild and free across the story, punching a hole in the tiny clubhouse that had been running the country. Democracy, aided by sunlight, has broken out in Britain.
We Got The Phone Hacking We Wanted – The Independent
This media is corrupt – we need a Hippocratic oath for journalists – The Guardian
A Tabloid Shame, Exposed By Earnest Rivals – New York Times
Jun 3, 2011 Moral Panics, Music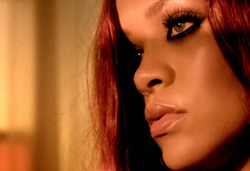 Rihanna's new music video release, Man Down, coincides with calls in the UK for a music video rating system to protect younger viewers from adult content. In the opening sequence of the video she shoots a man – who is later revealed to be her attacker – in the street. Given that this comes hot-on-the-heels of the controversy surrounding the sexual content of her last video, S&M, the cumulative outcome is that Rihanna becomes the poster child for this latest moral panic about media effects, whether she likes it or not.
We can see all three formal stages of a moral panic illustrated nicely here.
1. Occurrence and signification
Rihanna is a female pop star who goes on the record as saying she suffered abuse as a child. In 2009, she was also involved in a domestic violence situation with then-boyfriend Chris Brown, for which he was sentenced to five years probation; the drama of the assault, arrest and sentencing are all played out in the public eye. Therefore, when she releases a series of videos that speak to the topics of sex and violence (Love The Way You Lie, S&M, Man Down), the media exploit the personal angle, and devote many column inches to exploring the connection between Rihanna's life and her songs. Rihanna's raunchy performance on The X Factor in December 2010 is the subject of several complaints to OfCom, garnering further headlines. Rihanna's star persona is therefore a combination of elements, from the sexy projections in her performances, to the vulnerability she displays in her very public personal life. She is both victim and temptress: news outlets can use her any way they want.
2. Wider Social Implications (fanning the flames)
Rihanna's videos coincide with growing fears about the over-sexualisation of children. This fear derives from advertising, clothing, books, TV, movies and music aimed at pre-teens. In April 2011, Reg Bailey, head of the Mothers Union (a Christian group) in the UK claims that parents are
"struggling against the slow creep of an increasingly commercial and sexualised culture and behaviour, which they say prevents them from parenting the way they want…[They have] little faith in regulators or businesses taking their concerns seriously"
BBC News (among other outlets) reports:
A survey carried out for the review suggested that almost nine out of 10 UK parents thought children were having to grow up too early.

About half of the 1,000 parents questioned were unhappy with what was shown on television before the current "watershed" of 2100.

A majority of parents of five to 16-year-olds said music videos and a "celebrity culture" were encouraging children to act older than they were.
Rihanna's image and videos are used to illustrate news stories about the moral dangers of overly sexualised pop music (which has been perceived as a problem since the jazz age), although there is no evidence that her output has a particular impact upon young minds.
3. Social Controls
Thanks to the work and recommendations of Reg Bailey and the Mothers Union, an official government policy is to give music video broadcasters eighteen months to come up with a voluntary code that will rate music videos on a content basis and restrict broadcast times accordingly. This coincides with record label boss Richard Russell's proclamation that Adele's success is based on her specifically non-outrageous, non-sexual image, which suggests that public opinion is no longer in favor of sexy female popstars like Rihanna.
Music videos are only a small component of the "wallpaper" of supposedly dangerous images surrounding children, but they are one of the few areas of the media that remain unregulated – therefore they make an appropriate target for social control. News stories imply the tide is turning against explicitly sexual and violent music videos, and vulnerable 5-16 year olds will no longer be able to watch them on TV before 9pm. Phew! Problem solved, moral panic over.
However, BBC News duly notes :
Campaigners will scrutinise the full recommendations when they are published to see how effective they might be in the digital age, when most young people view music videos online and on their telephones.
And, on June 2, a bemused Rihanna, who is only making pop music to entertain people the best way she knows how, tweets:
I'm a 23 year old rockstar with NO KIDS! What's up with everybody wantin me to be a parent? I'm just a girl, I can only be your/our voice!
Rihanna Defends 'Man Down – ABC News
Music Videos Need Age Rating – BBC
Music Videos Face Crackdown Over Sexualised Content– The Guardian
Watchdog sniffs Rihanna's 'gently thrusting buttocks' – The Register
Rihanna's Twitter Feed