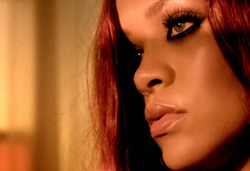 Rihanna's new music video release, Man Down, coincides with calls in the UK for a music video rating system to protect younger viewers from adult content. In the opening sequence of the video she shoots a man – who is later revealed to be her attacker – in the street. Given that this comes hot-on-the-heels of the controversy surrounding the sexual content of her last video, S&M, the cumulative outcome is that Rihanna becomes the poster child for this latest moral panic about media effects, whether she likes it or not.
We can see all three formal stages of a moral panic illustrated nicely here.
1. Occurrence and signification
Rihanna is a female pop star who goes on the record as saying she suffered abuse as a child. In 2009, she was also involved in a domestic violence situation with then-boyfriend Chris Brown, for which he was sentenced to five years probation; the drama of the assault, arrest and sentencing are all played out in the public eye. Therefore, when she releases a series of videos that speak to the topics of sex and violence (Love The Way You Lie, S&M, Man Down), the media exploit the personal angle, and devote many column inches to exploring the connection between Rihanna's life and her songs. Rihanna's raunchy performance on The X Factor in December 2010 is the subject of several complaints to OfCom, garnering further headlines. Rihanna's star persona is therefore a combination of elements, from the sexy projections in her performances, to the vulnerability she displays in her very public personal life. She is both victim and temptress: news outlets can use her any way they want.
2. Wider Social Implications (fanning the flames)
Rihanna's videos coincide with growing fears about the over-sexualisation of children. This fear derives from advertising, clothing, books, TV, movies and music aimed at pre-teens. In April 2011, Reg Bailey, head of the Mothers Union (a Christian group) in the UK claims that parents are
"struggling against the slow creep of an increasingly commercial and sexualised culture and behaviour, which they say prevents them from parenting the way they want…[They have] little faith in regulators or businesses taking their concerns seriously"
BBC News (among other outlets) reports:
A survey carried out for the review suggested that almost nine out of 10 UK parents thought children were having to grow up too early.

About half of the 1,000 parents questioned were unhappy with what was shown on television before the current "watershed" of 2100.

A majority of parents of five to 16-year-olds said music videos and a "celebrity culture" were encouraging children to act older than they were.
Rihanna's image and videos are used to illustrate news stories about the moral dangers of overly sexualised pop music (which has been perceived as a problem since the jazz age), although there is no evidence that her output has a particular impact upon young minds.
3. Social Controls
Thanks to the work and recommendations of Reg Bailey and the Mothers Union, an official government policy is to give music video broadcasters eighteen months to come up with a voluntary code that will rate music videos on a content basis and restrict broadcast times accordingly. This coincides with record label boss Richard Russell's proclamation that Adele's success is based on her specifically non-outrageous, non-sexual image, which suggests that public opinion is no longer in favor of sexy female popstars like Rihanna.
Music videos are only a small component of the "wallpaper" of supposedly dangerous images surrounding children, but they are one of the few areas of the media that remain unregulated – therefore they make an appropriate target for social control. News stories imply the tide is turning against explicitly sexual and violent music videos, and vulnerable 5-16 year olds will no longer be able to watch them on TV before 9pm. Phew! Problem solved, moral panic over.
However, BBC News duly notes :
Campaigners will scrutinise the full recommendations when they are published to see how effective they might be in the digital age, when most young people view music videos online and on their telephones.
And, on June 2, a bemused Rihanna, who is only making pop music to entertain people the best way she knows how, tweets:
I'm a 23 year old rockstar with NO KIDS! What's up with everybody wantin me to be a parent? I'm just a girl, I can only be your/our voice!
Rihanna Defends 'Man Down – ABC News
Music Videos Need Age Rating – BBC
Music Videos Face Crackdown Over Sexualised Content– The Guardian
Watchdog sniffs Rihanna's 'gently thrusting buttocks' – The Register
Rihanna's Twitter Feed