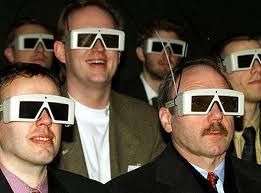 It seems the latest 3-D movie boom is over, and with it the boost to box office receipts that Hollywood was counting on to bolster their income against falling video rentals and DVD sales. The same rejection of 3-D happened the first time the technology was introduced in the 1950s, and again with the brief flowering of 3-D in the 1980s, with audiences getting tired of wearing the glasses (or not being able to wear them if you're colour blind), and paying extra for tickets for 3-D movies.
In 2011, audiences have started to buy tickets for "flat" (or 2-D) versions of the big movies being released in 3-D. Whether this is because they baulk at the price of tickets (which can be anything up to $20), or because they prefer watching movies with a traditional depth of field is not known. However, the numbers are clear:
Ripples of fear spread across Hollywood last week after "Pirates of the Caribbean: On Stranger Tides," which cost Walt Disney Studios an estimated $400 million to make and market, did poor 3-D business in North America. While event movies have typically done 60 percent of their business in 3-D, "Stranger Tides" sold just 47 percent in 3-D. "The American consumer is rejecting 3-D," Richard Greenfield, an analyst at the financial services company BTIG, wrote of the "Stranger Tides" results.

One movie does not make a trend, but the Memorial Day weekend did not give studio chiefs much comfort in the 3-D department. "Kung Fu Panda 2," a Paramount Pictures release of a DreamWorks Animation film, sold $53.8 million in tickets from Thursday to Sunday, a soft total, and 3-D was 45 percent of the business, according to Paramount.
3-D (or stereo vision) has been around since 1894, so it's not going to disappear anytime soon. However, as happened in the 1950s and the 1980s, many of the movies currently being shot in 3-D may only ever see a 2-D theatrical release. Will we lose a classic 3-D experience because of this? Hitchcock shot Dial M For Murder in 3-D in 1954, and included some sophisticated and innovative use of the technology, especially in the scenes with Grace Kelly wielding a pair of scissors that bring a whole new level of tension to the narrative. Unfortunately, this came at the end of the 3-D boom, and the move was eventually released as 2-D (although there are occasional screenings held of rare prints of the 3-D version).
Will the studios keep pushing 3-D onto audiences? This time, 3-D TV has a part to play, as those who have invested in 3-D sets will demand content to justify their investment. However, the signs are that 3-D 2010s style is just as much of a short-lived gimmick as its predecessors, until the next Avatar comes round to spark interest in the format once more.
3-D Starts to FIzzle, and Hollywood Frets – New York Times
A history of 3-D cinema – The Guardian