Archive for the 'Digital Technology' Category
Aug 11, 2016 Digital Technology, News Values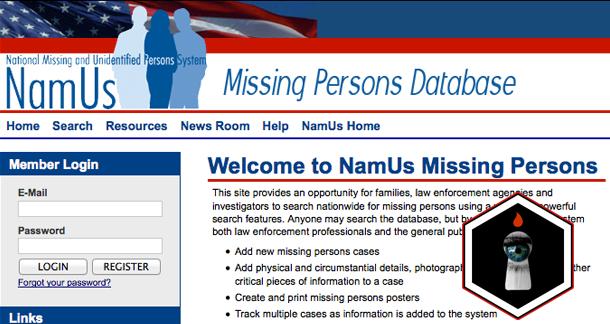 There's a story familiar to all of us, across cultures and through history, the story of someone who was there and then was not, of the person who relinquished their lifetime role as lover, sister, husband, grandpa, neighbor, colleague, or daughter and joined the always-swelling ranks of the Missing.
She popped out to the liquor store for a packet of cigarettes, didn't take a coat, never came back.
He left as usual for school, but went to the bank instead and withdrew all his savings. He was caught on CCTV boarding a bus to the city.
Her car was found in a Walmart parking lot, keys in the ignition, purse and phone on the front seat.
He took his regular morning train but never made it to work.  All bank account and cell phone activity ceased the same day.
She said she was going to a friend's house on the next street to study for a test.  She never showed up.
His neighbors got concerned when the mail began to pile up. When they broke down the front door they found his bed unmade and his wallet on the coffee table.
There's a distinctive subculture of the Missing within both fiction and reality.  They're often referred to as the great silent mass disaster of the modern age: more people vanish each year than are killed in any tsunami or earthquake or hurricane.  While they might start out as ordinary people, going about their day, the fact of their disappearance confers an automatic mystique. To go missing is to become a narrative. Readers of news reports, detective stories and true crime, plus viewers addicted to procedurals, are all drawn to the same, repeating, essential mystery: where do these people go? Is their vanishing the cold open or the final reel?
They haunt us, the Missing, for years, even decades after they disappear. Like the dead, their absence is a specific type of presence, constructed from pain, memory and regret.  Unlike the dead, whose extinction is a certified fact, their absence is abstract.  We can't articulate where, or even what, they are. They could reappear at any time, in hours, days, months or years, in any condition, from unharmed to fully decomposed.  The Missing agitate – and, yes, titillate – us in a way the simply dead do not.
Read the full article at LitReactor
Feb 10, 2014 Digital Technology, Movie Industry, Movies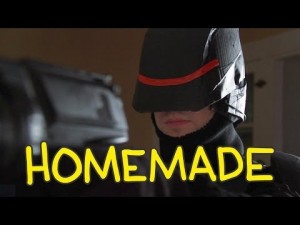 The latest soulless remake heading for our screens is the 2014 version of Paul Verhoven's sardonic sci-fi 1987 classic, RoboCop, the cautionary tale of a Detroit cop sucked into the military-industrial machine who, against the odds (and after being turned into a machine himself) manages to reconnect with his humanity.
Early reviews don't look good, suggesting (oh so predictably) that it's another by-the-numbers actioner lacking in its own merits, dependent on its reference points to the original for the thrills that it does contain. It's yet another lackluster attempt to cash in on our collective memory of a movie that was once worth driving to the multiplex for, and, despite representing some bold counter-programming for Valentine's Day, is unlikely to knock The Lego Movie off its box office perch.
The original RoboCop delighted audiences with Verhoven's trademark mix of brutality and eroticism, his attacks on corporate profiteering and media amorality, and his acute understanding of how to make a torture scene both jaw-dropping and emotionally moving.  The movie generated a robust franchise, including the usual merchandise, two sequels, a TV show, video games and various comic books.  As with all the best speculative fiction, it reflected the times as well as predicting the future. RoboCop took the collective nightmares of Reagan's America — the Star Wars initiative, consumerism, nuclear Armageddon, inner city no-go zones — and put them through the blender of violent movie entertainment, accompanied by the distinctive thud-thud-whirr of RoboCop doing his trademark moves.  Peter Weller found ways of wearing the suit rather than letting the suit wear him, and, despite being hidden behind a metal mask for most of the action and speaking in pre-programmed sentences, had the audience rooting for RoboCop's eventual triumph.
Thanks to Weller's subtle definition of the character (and his sensual lips), the range of snappy one-liners traded among the fine supporting cast ("I'll buy that for a dollar!" "I remember you! You're dead. We killed you!" "15 seconds to comply") and the quintessentially 80s score and sound design, RoboCop has been much referenced and parodied in other media, including music and video games.  A smart, funny, self-aware genre movie, it has inspired much affection from fans since its release.
Given the continued recognition of the brand, a remake was inevitable.  Sony/MGM, along with all the other major studios, have concluded that it is easier to market a property with existing awareness than it is to launch a new one.  People tend to know what a RoboCop is — which is more than can be said for a divergent, for instance. So they've tossed an estimated budget of $100M into the pot, hired some reliable, if not huge marquee name actors (Gary Oldman, Abbie Cornish, Jackie Earle Haley, Michael Keaton, and the ubiquitous Samuel L. Jackson), updated the RoboSuit with some slick Iron Man styling,  and, in making it look like every other comicbook movie out there, are hoping for a reasonable return on their investment.  Which is missing the point about what made the original so much fun, and so memorable.  But they own the property, and, despite what disgruntled fans might be bewailing across the internets, that's that.
"Well, he signed the release form. And legally, he's dead. I figure we can do anything with him we want."
There is hope, however.  A RoboCop remake is not automatically a terrible idea. If it was done with Verhoven verve, irreverence, and affection for the source material, then it might just be worth revisiting — which is what a group of more than 50 Los Angeles and New York film-makers have done, splitting the original screenplay into 60 separate scenes and remaking each one in a different style as a crowd-sourced project.
The resulting movie is an anarchic mash-up of live action, animation (computer, hand-drawn and stop motion), modern dance, and a montage of penises being blown apart that will stay with you for the rest of your sentient days.  Warmth towards the original, flaws and all, glows from every frame; this is definitely one for the fans. Original story weaknesses (such as RoboCop's dependence on a nutritional paste that tastes "like baby food", or his ambiguity towards his wife) are picked up as running gags throughout.
While the quality isn't altogether consistent, some of the input is surprisingly sophisticated, and, if one film-maker's approach leaves you cold, you're only ever a couple of minutes away from the delights of the next segment.  A labor of love (available to watch for free to watch or download on Vimeo until the studio figure out their cease-and-desist strategy),  Our RoboCop Remake functions simultaneously as tribute and critique — testament to the power of film-making tools put into democratic hands.
Our RoboCop Remake is fresher, funnier and more outrageous than any studio blockbuster could dare to be. Here's hoping it points to a future when remakes are an embarrassing anomaly of the past, and, rather than spending millions of dollars on persuading us to pay again for something we've seen before, studios take risks on new talent and original stories. Like they used to.
Jul 3, 2013 Digital Technology
Time lapse maestro Simon Christen's latest project is available to watch on Vimeo.
"The weather conditions have to be just right for the fog to glide over the hills and under the bridge. I developed a system for trying to guess when to make the drive out to shoot, which involved checking the weather forecast, satellite images and webcams multiple times a day. For about 2 years, if the weather looked promising, I would set my alarm to 5am, recheck the webcams, and then set off on the 45-minute drive to the Marin Headlands."
Adrift from Simon Christen on Vimeo.
Apr 19, 2013 Digital Technology, Music
Here's a convenient round-up of some of the biggest successes on YouTube so far (and their current whereabouts…):
Dec 29, 2012 Advertising, Digital Technology, Movie Industry, Movies, Music, Piracy, TV
As 2012 draws to a close, here's a round-up of the round-ups, the 'Best Of' lists of the media that rocked the world over the past 12 months.
1. YouTube Videos
From South Korea to the outer edges of the planet's atmosphere, the most-watched YouTube videos of 2012 are a truly global collection. Psy's Gangnam Style became the most viewed YouTube video of all time, and spawned countless parodies. Felix Baumgartner became the man who fell to earth and garnered the most simultaneous views, from everyone watching his record breaking jump live.  And there was KONY 2012, but we've forgotten that now.
2. Pirated TV Shows
Game of Thrones topped the list of shows that fans, mostly outside the US, couldn't wait to see. If the US TV networks could figure out a global subscription model, it seems there's a lot of money to be made.
3. TV Commercials
Advertising spots around the world continued to straddle the boundary of entertainment and annoyance.
4. Tweets
Barack Obama's "Four more years" got more than 810,000 RTs, making it the most retweeted comment of the year.  Not even Justin Bieber's farewell to a dying fan came close.
5. World-wide Box Office
It was the same-old same-old Hollywood doldrums at the global box office this year, with the Top Ten dominated by superheroes, franchises, and superhero franchises. Audiences across the planet responded enthusiastically to big explosions, car chases, sparkling vampires, archers and talking cartoon animals – just as they always do. Only Brave (at no.11) is an original movie, everything higher up the list is based on pre-existing intellectual property.
6. Documentaries
Documentary movies provide a fascinating measure of cultural temperature: what subjects resonated with both filmmakers and audiences in 2012? From the riches-to-rags down/up comparison afforded by The Queen of Versailles to the injustices exposed by Mea Maxima Culpa: Silence in the House of God to the unique experiences explored in Jiro Dreams of Sushi or The Imposter, 2012 gave us a range of insights into the human condition.  I'd also add The Ambassador and Paradise Lost 3 to this list — although they were officially released in 2011 they didn't reach a wider audience until this year.
7. Valuable Movie Stars
Every year, Forbes compiles two lists.  One is of the movie stars who deliver the most return per dollar of their asking price, the other details those who return the least.  The young stars who dominate the MVP list owe their position to the blockbuster franchises they appear in (for a relatively low payday) rather than their audience-pulling clout.  However, with the notion of star power, and the resultant massive paydays, fading into the 1990s in Hollywood, this metric is becoming more and more meaningful.
8. Blogs
Despite the rise of other forms of social media, blogging refuses to die.  It's still the best way for individuals to bypass traditional media – in all its hegemonic glory – and communicate their viewpoint with the world.  Whether you're a Scottish schoolgirl complaining about the quality of your school dinners, a political pundit, an interior designer or a comic book expert, a blog is as vital as it has ever been.
9. Tumblrs
Sometimes, a blog is TL:DR and a picture is worth a thousand words.  That's where Tumblr rules.  Whether the images are of Hillary Clinton, texts from a dog, face math or cats (LOTS of cats) Tumblr is best way of bringing memes to the masses.
10. Music Videos
The migration of the music video from TV to the internet is now complete.  Their short length and instant brand identity makes them an ideal media form for viewing on smartphones or tablets.  This year, Psy dominated YouTube but Carly Rae Jepsen's lawnboy lust topped the views on VEVO. This is crazy…
Dec 30, 2011 Digital Technology, Movie Industry, Movies, Piracy
It seems Paul Walker still has what it takes. But no wonder the studios are pissed off about piracy. Let's do the math.
Box Office Mojo works with an average per ticket price of $7.96 for 2011 (although I usually pay twice that). I've included the revenue discrepancy if everyone who downloaded had instead bought a ticket at a theater for that price – although I know some of these pirates might have rented or bought the DVD instead.
1. Fast Five – 9.2m downloads ($73.23M of lost ticket sales)
2. The Hangover II – 8.8m downloads ($70.05M of lost ticket sales)
3. Thor – 8.3m downloads ($66.07M of lost ticket sales)
4. Source Code – 7.9m downloads ($62.88M of lost ticket sales)
5. I Am Number Four – 7.6m downloads ($60.5M of lost ticket sales)
6. Sucker Punch – 7.2m downloads ($57.3M of lost ticket sales)
7. 127 Hours – 6.9m downloads ($55M of lost ticket sales)
8. Rango – 6.4m downloads ($51M of lost ticket sales)
9. The King's Speech – 6.2m downloads ($49.4M of lost ticket sales)
10. Harry Potter and the Deathly Hallows: Part 2 – 6m downloads ($47.76M of lost ticket sales)
For a movie like Sucker Punch, which managed a worldwide gross of only $89.8M, these numbers must be particularly galling. If everyone who downloaded the movie had actually bought a ticket instead, then it might have been considered a middling success, rather than a dismal failure. The same goes for Source Code, which barely scraped $55M as a domestic gross, and could certainly have used an extra $62.88M in its final tally.
The money lost on each one of these movies, had it gone to the studios, would have funded a mid-budget movie (and employed hundreds of people). So, next time you go to the multiplex and wonder where all the "missing" movies are, the non-sequels, the non-remakes, the non-adaptations, this is what happened: pirates ate them.
The Guardian has the full breakdown.
May 30, 2011 Digital Technology, Movie Industry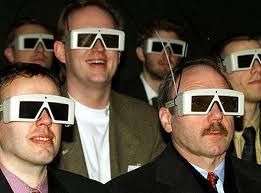 It seems the latest 3-D movie boom is over, and with it the boost to box office receipts that Hollywood was counting on to bolster their income against falling video rentals and DVD sales. The same rejection of 3-D happened the first time the technology was introduced in the 1950s, and again with the brief flowering of 3-D in the 1980s, with audiences getting tired of wearing the glasses (or not being able to wear them if you're colour blind), and paying extra for tickets for 3-D movies.
In 2011, audiences have started to buy tickets for "flat" (or 2-D) versions of the big movies being released in 3-D. Whether this is because they baulk at the price of tickets (which can be anything up to $20), or because they prefer watching movies with a traditional depth of field is not known. However, the numbers are clear:
Ripples of fear spread across Hollywood last week after "Pirates of the Caribbean: On Stranger Tides," which cost Walt Disney Studios an estimated $400 million to make and market, did poor 3-D business in North America. While event movies have typically done 60 percent of their business in 3-D, "Stranger Tides" sold just 47 percent in 3-D. "The American consumer is rejecting 3-D," Richard Greenfield, an analyst at the financial services company BTIG, wrote of the "Stranger Tides" results.

One movie does not make a trend, but the Memorial Day weekend did not give studio chiefs much comfort in the 3-D department. "Kung Fu Panda 2," a Paramount Pictures release of a DreamWorks Animation film, sold $53.8 million in tickets from Thursday to Sunday, a soft total, and 3-D was 45 percent of the business, according to Paramount.
3-D (or stereo vision) has been around since 1894, so it's not going to disappear anytime soon. However, as happened in the 1950s and the 1980s, many of the movies currently being shot in 3-D may only ever see a 2-D theatrical release. Will we lose a classic 3-D experience because of this? Hitchcock shot Dial M For Murder in 3-D in 1954, and included some sophisticated and innovative use of the technology, especially in the scenes with Grace Kelly wielding a pair of scissors that bring a whole new level of tension to the narrative. Unfortunately, this came at the end of the 3-D boom, and the move was eventually released as 2-D (although there are occasional screenings held of rare prints of the 3-D version).
Will the studios keep pushing 3-D onto audiences? This time, 3-D TV has a part to play, as those who have invested in 3-D sets will demand content to justify their investment. However, the signs are that 3-D 2010s style is just as much of a short-lived gimmick as its predecessors, until the next Avatar comes round to spark interest in the format once more.
3-D Starts to FIzzle, and Hollywood Frets – New York Times
A history of 3-D cinema – The Guardian