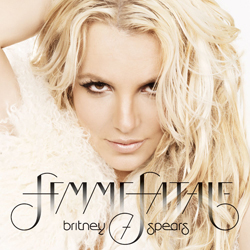 Britney Spears' seventh album, Femme Fatale, debuted at No. 1 on the charts this week. Viewed as more of a successor to the 2007 stomper, Blackout, that the rather insipid Circus, Femme Fatale has garnered some pretty good reviews. Britney and her people make cheesy pop records, for people to sing and dance along to, and utilize as part of their 2011 soundtrack when driving/partying/studying/jogging or whatever else they do to music. Britney has worked hard as a performer since her Mickey Mouse Club days, and absolutely nails the whole song-and-dance routine. She knows what her job is, and she's good at it. She's not pretending to be a great musical diva – unlike some of her peers, who have pretensions to the title "artiste" – and has never ever claimed to be a songwriter. So it comes as a surprise to see some reviewers sniping about the fact that Britney doesn't "even" have any co-writing credits on Femme Fatale. Why should she?
Heather Bright, who did write one of the songs on the album, explains all in a recent blog post.
here's my thing… and I feel VERY passionate about this issue. Britney could have come to me, like all these other A-list artists, and said…

"Hey, you wanna be on my album? I'm gonna need writing credit for that song AND part of your publishing even though I didn't write anything! And then I'm gonna go on tour and gross $150 million in ticket sales and not give you any of that, even though I'm performing your song!"

I could rattle off a laundry list of artists who I've had that conversation with! And I'm on the other end like… "Oh okay… so you wanna rape me, but just with the tip?!" *Prince side eye* Britney's one of the few artists I've worked with who didn't try to take something that wasn't hers. In my experience, from a business standpoint, her entire team is nothing less than a bonafide class act! If I ever have another song that she wants and another artist happens to want the same song… Britney will get it EVERYTIME! Why? Because she's honest! And she treats her writers and producers with respect and dignity. An artist is nothing without a hit song… and a hit song is nothing without the right artist. It looks like the question I posed earlier just found its answer… maybe this is why 12 years later she's STILL at the top!
Despite Heather setting the record straight, could carping about Britney's lack of credits be part of a trend, along with the Natalie Portman/Sarah Lane palaver? It seems, thanks to the reduced royalties and different consumption models for entertainment, that we are looking at a future where even top entertainers will only earn a comfortable, rather than superstar-grade, income. With less money coming in, such entertainers will be asked to do more for themselves (write material as well as perform and publicize it), instead of relying on teams of songwriters, dance-doubles, script doctors, editors and publicists in order to project a composite star persona. Will performers like Britney, able to call on the extensive talents of others, soon become a rarity on the pop culture landscape? Will this even be a bad thing?
Oh Britney Britney – Heather Bright's blog