Archive for the 'Copyright' Category
Apr 7, 2011 Copyright, Media Careers, Music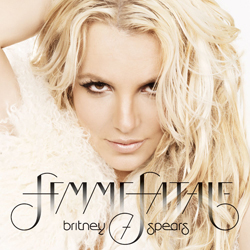 Britney Spears' seventh album, Femme Fatale, debuted at No. 1 on the charts this week. Viewed as more of a successor to the 2007 stomper, Blackout, that the rather insipid Circus, Femme Fatale has garnered some pretty good reviews. Britney and her people make cheesy pop records, for people to sing and dance along to, and utilize as part of their 2011 soundtrack when driving/partying/studying/jogging or whatever else they do to music. Britney has worked hard as a performer since her Mickey Mouse Club days, and absolutely nails the whole song-and-dance routine. She knows what her job is, and she's good at it. She's not pretending to be a great musical diva – unlike some of her peers, who have pretensions to the title "artiste" – and has never ever claimed to be a songwriter. So it comes as a surprise to see some reviewers sniping about the fact that Britney doesn't "even" have any co-writing credits on Femme Fatale. Why should she?
Heather Bright, who did write one of the songs on the album, explains all in a recent blog post.
here's my thing… and I feel VERY passionate about this issue. Britney could have come to me, like all these other A-list artists, and said…

"Hey, you wanna be on my album? I'm gonna need writing credit for that song AND part of your publishing even though I didn't write anything! And then I'm gonna go on tour and gross $150 million in ticket sales and not give you any of that, even though I'm performing your song!"

I could rattle off a laundry list of artists who I've had that conversation with! And I'm on the other end like… "Oh okay… so you wanna rape me, but just with the tip?!" *Prince side eye* Britney's one of the few artists I've worked with who didn't try to take something that wasn't hers. In my experience, from a business standpoint, her entire team is nothing less than a bonafide class act! If I ever have another song that she wants and another artist happens to want the same song… Britney will get it EVERYTIME! Why? Because she's honest! And she treats her writers and producers with respect and dignity. An artist is nothing without a hit song… and a hit song is nothing without the right artist. It looks like the question I posed earlier just found its answer… maybe this is why 12 years later she's STILL at the top!
Despite Heather setting the record straight, could carping about Britney's lack of credits be part of a trend, along with the Natalie Portman/Sarah Lane palaver? It seems, thanks to the reduced royalties and different consumption models for entertainment, that we are looking at a future where even top entertainers will only earn a comfortable, rather than superstar-grade, income. With less money coming in, such entertainers will be asked to do more for themselves (write material as well as perform and publicize it), instead of relying on teams of songwriters, dance-doubles, script doctors, editors and publicists in order to project a composite star persona. Will performers like Britney, able to call on the extensive talents of others, soon become a rarity on the pop culture landscape? Will this even be a bad thing?
Oh Britney Britney – Heather Bright's blog
Mar 8, 2011 Copyright, Digital Technology, Piracy
Photographer Noam Galai took a picture of himself screaming and uploaded it to Flickr in 2007. Four years later, that image has become part of cultural discourse, appearing everywhere from anti-government graffiti in Iran to the cover of a book in Mexico. Noam's face appeared on all kinds of merchandise, but he was never credited, and didn't receive any payments for its widespread use. He tells the story here:
The Stolen Scream: A Story About Noam Galai from FStoppers on Vimeo.
He's generally very phlegmatic about the whole experience, honoured that his face has become a badge for freedom fighters, and flattered that it has global significance. However, as this video shows, he's bemused that his work could go so uncredited and unrewarded.
Compare the fate of Galai's image to that of an iconic photograph from another era – one in which principles of copyright very much held sway. Robert Doisneau's The Kiss By The Hôtel de Ville was shot in 1950 for Life. Since then, it has been reproduced over and over, but has been jealously protected by copyright law, so much so that a couple who thought they might be the ones in the picture thought it was worth bringing a lawsuit. Doisneau's name is synonymous with his work, however, and no one would dare use it, as happened with Galai's image, to illustrate a magazine article without obtaining proper permissions.
Is intellectual property just a quaint twentieth century concept? If so, how do we expect artists, writers and photographers to make a living?
The Stolen Scream – Noam's own blog with all the latest examples of image usage
Screamography – money from these products does actually go to Noam
The Kiss By The Hôtel de Ville– Famous Pictures
Feb 13, 2011 Advertising, Copyright, Digital Technology, Movie Industry, Piracy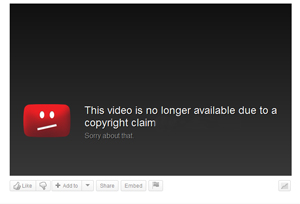 Any quick scan of YouTube reveals a dizzyingly inconsistent array of movie and TV show clips. In theory, clips should only be uploaded by the copyright holder, but movie studios and media conglomerates have a range of attitudes on what can and can't be uploaded by fans under the remit of "Fair Use".
Fair Use is the legal principle that allows others to quote excerpts from copyrighted work for the purposes of "criticism, comment, news reporting, teaching, scholarship, and research." Given that "scholarship and research" has never been a prime function of YouTube, in the early days of the site, major movie studios were quite aggressive about getting clips taken down.  However, around 2008, studios realised the power of viral videos and interactive marketing (posting clips for people to comment on) and shifted their position. Martin Anderson explores the ramifications in an in-depth feature over at Shadowlocked.
It was the time of Facebook-for-everyone, the time when 'viral marketing' transited from the water-cooler to the company policies of PR sites; a time when it began to occur to the major studios that they might consider the harsh object-lesson learnt by the music companies' eternal take-down war with the MP3 uploaders – particularly since their own product could not be encapsulated in the 10-minute limits of a YouTube upload (recently extended to 15 minutes for many users, though to little practical difference, in these circumstances).
Young people, people far cooler than they were, the very people whose wallets, purses and general esteem the media giants were desperate to invade, were out there doing work and getting product-coverage that their own marketing departments would have killed to achieve by conventional methods. They weren't getting a dime for all this work, and to boot they could now be completely controlled by the Content ID architecture.
The ContentID software allows the automated tracking of clips. It scans content and matches it back to a database, so that copyright holders can
* Identify user-uploaded videos comprised entirely OR partially of their content, and
* Choose, in advance, what they want to happen when those videos are found. Make money from them. Get stats on them. Or block them from YouTube altogether.
Curious, Anderson tried uploading clips from different properties to see what the reaction would be:
NBC Universal's North American stake on the excellent 2008 black comedy In Bruges meant that my clip upload was blocked in the US, while Lionsgate decided to monetise my uploaded clip of 2003's The Grudge by adding commercials. NBC Universal banned my uploaded clip of Jurassic Park: The Lost World all over the world, though they seem able to tolerate a 16-second clip.
Anderson also identifies several YouTube users who only post HQ clips from movies during the promotional period of a DVD or theatrical release. Genuine fans or studio sock puppets?
As audiences become more and more resistant to traditional forms of advertising, it seems that media providers have their eye on "user" generated content as a way of getting their message across. The whole ethos of YouTube is 'Broadcast Yourself', and it would be a shame if that spirit was lost in a slurry of marketing videos produced by the media institutions who have a stranglehold on all our other channels of communication in the first place.
US Copyright Office on Fair Use
YouTube and the major film studios – Shadowlocked
YouTube's Content ID
Dec 20, 2010 Copyright, Music, Piracy
Not only did Damon Albarn produce The Fall on an iPad, it's being given away for free to Sub Division (i.e. internet fan club members) on Christmas Day, months prior to its physical release.
Check out the track listing and more details at Soul Culture.