Archive for the 'Piracy' Category
Dec 29, 2012 Advertising, Digital Technology, Movie Industry, Movies, Music, Piracy, TV
As 2012 draws to a close, here's a round-up of the round-ups, the 'Best Of' lists of the media that rocked the world over the past 12 months.
1. YouTube Videos
From South Korea to the outer edges of the planet's atmosphere, the most-watched YouTube videos of 2012 are a truly global collection. Psy's Gangnam Style became the most viewed YouTube video of all time, and spawned countless parodies. Felix Baumgartner became the man who fell to earth and garnered the most simultaneous views, from everyone watching his record breaking jump live.  And there was KONY 2012, but we've forgotten that now.
2. Pirated TV Shows
Game of Thrones topped the list of shows that fans, mostly outside the US, couldn't wait to see. If the US TV networks could figure out a global subscription model, it seems there's a lot of money to be made.
3. TV Commercials
Advertising spots around the world continued to straddle the boundary of entertainment and annoyance.
4. Tweets
Barack Obama's "Four more years" got more than 810,000 RTs, making it the most retweeted comment of the year.  Not even Justin Bieber's farewell to a dying fan came close.
5. World-wide Box Office
It was the same-old same-old Hollywood doldrums at the global box office this year, with the Top Ten dominated by superheroes, franchises, and superhero franchises. Audiences across the planet responded enthusiastically to big explosions, car chases, sparkling vampires, archers and talking cartoon animals – just as they always do. Only Brave (at no.11) is an original movie, everything higher up the list is based on pre-existing intellectual property.
6. Documentaries
Documentary movies provide a fascinating measure of cultural temperature: what subjects resonated with both filmmakers and audiences in 2012? From the riches-to-rags down/up comparison afforded by The Queen of Versailles to the injustices exposed by Mea Maxima Culpa: Silence in the House of God to the unique experiences explored in Jiro Dreams of Sushi or The Imposter, 2012 gave us a range of insights into the human condition.  I'd also add The Ambassador and Paradise Lost 3 to this list — although they were officially released in 2011 they didn't reach a wider audience until this year.
7. Valuable Movie Stars
Every year, Forbes compiles two lists.  One is of the movie stars who deliver the most return per dollar of their asking price, the other details those who return the least.  The young stars who dominate the MVP list owe their position to the blockbuster franchises they appear in (for a relatively low payday) rather than their audience-pulling clout.  However, with the notion of star power, and the resultant massive paydays, fading into the 1990s in Hollywood, this metric is becoming more and more meaningful.
8. Blogs
Despite the rise of other forms of social media, blogging refuses to die.  It's still the best way for individuals to bypass traditional media – in all its hegemonic glory – and communicate their viewpoint with the world.  Whether you're a Scottish schoolgirl complaining about the quality of your school dinners, a political pundit, an interior designer or a comic book expert, a blog is as vital as it has ever been.
9. Tumblrs
Sometimes, a blog is TL:DR and a picture is worth a thousand words.  That's where Tumblr rules.  Whether the images are of Hillary Clinton, texts from a dog, face math or cats (LOTS of cats) Tumblr is best way of bringing memes to the masses.
10. Music Videos
The migration of the music video from TV to the internet is now complete.  Their short length and instant brand identity makes them an ideal media form for viewing on smartphones or tablets.  This year, Psy dominated YouTube but Carly Rae Jepsen's lawnboy lust topped the views on VEVO. This is crazy…
Dec 30, 2011 Digital Technology, Movie Industry, Movies, Piracy
It seems Paul Walker still has what it takes. But no wonder the studios are pissed off about piracy. Let's do the math.
Box Office Mojo works with an average per ticket price of $7.96 for 2011 (although I usually pay twice that). I've included the revenue discrepancy if everyone who downloaded had instead bought a ticket at a theater for that price – although I know some of these pirates might have rented or bought the DVD instead.
1. Fast Five – 9.2m downloads ($73.23M of lost ticket sales)
2. The Hangover II – 8.8m downloads ($70.05M of lost ticket sales)
3. Thor – 8.3m downloads ($66.07M of lost ticket sales)
4. Source Code – 7.9m downloads ($62.88M of lost ticket sales)
5. I Am Number Four – 7.6m downloads ($60.5M of lost ticket sales)
6. Sucker Punch – 7.2m downloads ($57.3M of lost ticket sales)
7. 127 Hours – 6.9m downloads ($55M of lost ticket sales)
8. Rango – 6.4m downloads ($51M of lost ticket sales)
9. The King's Speech – 6.2m downloads ($49.4M of lost ticket sales)
10. Harry Potter and the Deathly Hallows: Part 2 – 6m downloads ($47.76M of lost ticket sales)
For a movie like Sucker Punch, which managed a worldwide gross of only $89.8M, these numbers must be particularly galling. If everyone who downloaded the movie had actually bought a ticket instead, then it might have been considered a middling success, rather than a dismal failure. The same goes for Source Code, which barely scraped $55M as a domestic gross, and could certainly have used an extra $62.88M in its final tally.
The money lost on each one of these movies, had it gone to the studios, would have funded a mid-budget movie (and employed hundreds of people). So, next time you go to the multiplex and wonder where all the "missing" movies are, the non-sequels, the non-remakes, the non-adaptations, this is what happened: pirates ate them.
The Guardian has the full breakdown.
Mar 8, 2011 Copyright, Digital Technology, Piracy
Photographer Noam Galai took a picture of himself screaming and uploaded it to Flickr in 2007. Four years later, that image has become part of cultural discourse, appearing everywhere from anti-government graffiti in Iran to the cover of a book in Mexico. Noam's face appeared on all kinds of merchandise, but he was never credited, and didn't receive any payments for its widespread use. He tells the story here:
The Stolen Scream: A Story About Noam Galai from FStoppers on Vimeo.
He's generally very phlegmatic about the whole experience, honoured that his face has become a badge for freedom fighters, and flattered that it has global significance. However, as this video shows, he's bemused that his work could go so uncredited and unrewarded.
Compare the fate of Galai's image to that of an iconic photograph from another era – one in which principles of copyright very much held sway. Robert Doisneau's The Kiss By The Hôtel de Ville was shot in 1950 for Life. Since then, it has been reproduced over and over, but has been jealously protected by copyright law, so much so that a couple who thought they might be the ones in the picture thought it was worth bringing a lawsuit. Doisneau's name is synonymous with his work, however, and no one would dare use it, as happened with Galai's image, to illustrate a magazine article without obtaining proper permissions.
Is intellectual property just a quaint twentieth century concept? If so, how do we expect artists, writers and photographers to make a living?
The Stolen Scream – Noam's own blog with all the latest examples of image usage
Screamography – money from these products does actually go to Noam
The Kiss By The Hôtel de Ville– Famous Pictures
Feb 13, 2011 Advertising, Copyright, Digital Technology, Movie Industry, Piracy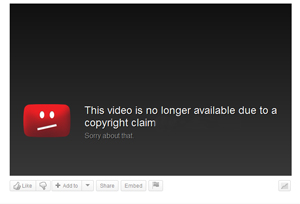 Any quick scan of YouTube reveals a dizzyingly inconsistent array of movie and TV show clips. In theory, clips should only be uploaded by the copyright holder, but movie studios and media conglomerates have a range of attitudes on what can and can't be uploaded by fans under the remit of "Fair Use".
Fair Use is the legal principle that allows others to quote excerpts from copyrighted work for the purposes of "criticism, comment, news reporting, teaching, scholarship, and research." Given that "scholarship and research" has never been a prime function of YouTube, in the early days of the site, major movie studios were quite aggressive about getting clips taken down.  However, around 2008, studios realised the power of viral videos and interactive marketing (posting clips for people to comment on) and shifted their position. Martin Anderson explores the ramifications in an in-depth feature over at Shadowlocked.
It was the time of Facebook-for-everyone, the time when 'viral marketing' transited from the water-cooler to the company policies of PR sites; a time when it began to occur to the major studios that they might consider the harsh object-lesson learnt by the music companies' eternal take-down war with the MP3 uploaders – particularly since their own product could not be encapsulated in the 10-minute limits of a YouTube upload (recently extended to 15 minutes for many users, though to little practical difference, in these circumstances).
Young people, people far cooler than they were, the very people whose wallets, purses and general esteem the media giants were desperate to invade, were out there doing work and getting product-coverage that their own marketing departments would have killed to achieve by conventional methods. They weren't getting a dime for all this work, and to boot they could now be completely controlled by the Content ID architecture.
The ContentID software allows the automated tracking of clips. It scans content and matches it back to a database, so that copyright holders can
* Identify user-uploaded videos comprised entirely OR partially of their content, and
* Choose, in advance, what they want to happen when those videos are found. Make money from them. Get stats on them. Or block them from YouTube altogether.
Curious, Anderson tried uploading clips from different properties to see what the reaction would be:
NBC Universal's North American stake on the excellent 2008 black comedy In Bruges meant that my clip upload was blocked in the US, while Lionsgate decided to monetise my uploaded clip of 2003's The Grudge by adding commercials. NBC Universal banned my uploaded clip of Jurassic Park: The Lost World all over the world, though they seem able to tolerate a 16-second clip.
Anderson also identifies several YouTube users who only post HQ clips from movies during the promotional period of a DVD or theatrical release. Genuine fans or studio sock puppets?
As audiences become more and more resistant to traditional forms of advertising, it seems that media providers have their eye on "user" generated content as a way of getting their message across. The whole ethos of YouTube is 'Broadcast Yourself', and it would be a shame if that spirit was lost in a slurry of marketing videos produced by the media institutions who have a stranglehold on all our other channels of communication in the first place.
US Copyright Office on Fair Use
YouTube and the major film studios – Shadowlocked
YouTube's Content ID
Dec 31, 2010 Digital Technology, Piracy, TV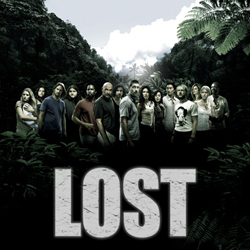 LOST tops this year's list of illegally downloaded TV shows – thanks mainly to fans who live outside the USA and who couldn't wait until the final episodes were broadcast in their territory. It's interesting to note that HEROES and DEXTER have more illicit viewers than legitimate ones.
Torrentfreak (link below) note that downloading has fallen over the past couple of years in the USA, thanks to 'on demand' free internet TV services like Hulu. This list demonstrates that global viewing habits have changed; compare this to the fall in DVD sales. Are we moving towards global patterns of TV viewership, just as we've moved towards global patterns of movie releases?
Torrentfreak has the full list.
Dec 20, 2010 Copyright, Music, Piracy
Not only did Damon Albarn produce The Fall on an iPad, it's being given away for free to Sub Division (i.e. internet fan club members) on Christmas Day, months prior to its physical release.
Check out the track listing and more details at Soul Culture.