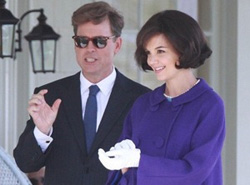 The Katie Holmes/Greg Kinnear-starring miniseries about the Kennedy family has been shelved by the History Channel after a sustained protest campaign about the accuracy of the content. "We have concluded this dramatic interpretation is not a fit for the History brand".
Liberal politicians and historians objected to what they said were major inaccuracies in the story-telling, and asserted that the miniseries was a vindictive attempt to smear the name and memory of the Kennedys. Broadcasting it on the History Channel would have implied that it was historically based, factual, rather than fictional drama. The miniseries may well be broadcast by another channel at some point, but it will have lost its stamp of authenticity.
True life stories are a legal and creative minefield for film and TV producers, especially when they are about controversial public figures like JFK. The First Amendment allows certain protections in the US when it comes to putting an interpretation of real life events and people on screen; it's acknowledged that a certain amount of dramatic licence is needed to shape truth into a timely and engaging narrative. Reality can't always be shoe-horned into a neat three act structure. Nonetheless, the First Amendment doesn't stop a lot of individuals who have been unhappy at their depiction from bringing lawsuits against film and programme-makers, and the threat of costly litigation is a dangerous one. Now it looks like censorship – particularly of recent political history – is added to the mix. No one really minds when the Tudors are depicted as sex-crazed and Machiavellian, full of greed and vanity, but when it comes to showing more recent political players as being that way, it appears that a line has been crossed.
Audiences have spent ten years getting used to the ragged and chaotic story-telling of reality TV, and have a proven taste for "based on a true story" movies. The success this awards season of THE KING'S SPEECH, THE SOCIAL NETWORK, 127 HOURS, and THE FIGHTER (all based on real characters, real events) shows that there is a viable market for factual narratives. Mark Zuckerberg's reportedly negative reaction to THE SOCIAL NETWORK has not resulted in a costly lawsuit, but instead generated huge amounts of publicity – for both the man and the movie, ending with Zuckerberg being declared Time's Person of The Year 2010. Factual drama isn't going to go away anytime soon. However, film and program makers need to be able to argue the case for their interpretation, both in meetings with networks and studios, and in court.
History Network Pulls Plug on Kennedy Project– AP
Stop Kennedy Smears – the website that won
From Real To Reel: In fact-based films, reality and story-telling collide – LA Times, December 27, 2010